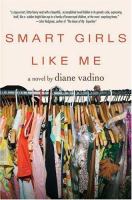 Smart Girls Like Me
Annotation
This is a story about what happens when you are twenty-four years old and it is 1999 and you are quite certain that everyone on the planet has been invited to super-fun New Year's Eve orgies, except you, because you were too busy making plans for the end of the world---courtesy of God or militiamen or your best friend and her ridiculous wedding in the middle of the South Pacific. This is a story about what happens when you think and truly mean things like "I don't care if the world ends, as long as it ends before this stupid wedding."
There is sex, albeit awkward and tentative. There are drugs, however illegal. There is very little rock and roll, but there is, of course, a wedding, and possibly a heroine: Betsy Nilssen, who, daily, finds herself in the sort of Manhattan workplace frequently filled with fashion models, few of whom have spilled milk on their jeans. She has a best friend named Bridget, and all Betsy wants is to escape the coming apocalypse by fleeing with Bridget to New Zealand, where they could kayak through fjords and make out with surfers. But two things happen: Bridget deserts Betsy---if by that we mean that Bridget accepts her boyfriend's proposal of marriage---and Betsy meets the man of her quite literal dreams, possibly the only person who might assuage the terrifying fact of Bridget's wedding while simultaneously distracting her from the end of the world---er, year.
This is a story about the risks and the rewards of becoming the next and better you, whoever that person might be. It is a story about what happens when you love tremendously and desperately and occasionally unwisely. And it is a story of that one friend: your phone-a-friend with the definition of a tangelo at the ready, the one you call when the world is ending, the one you need, finally, more than any other person on the planet. Advance Praise for" Smart Girls Like Me""" """For many years I have marveled at Diane Vadino's ability to take the plainest little sentence and extend and twist it into something finer, funnier, revealing, and sad. Like this one from the book you are holding right now and ought to buy immediately: 'Or maybe this is all a fabrication, a way to soften the fact that she is sashimi at Nobu and I am Stouffer's macaroni and cheese and that this is less an illuminating metaphor than it is an accurate description of what we both ate for dinner last night.' That's just one of the beguiling double helixes that make up the DNA of this book: a zippy-smart, bitter-funny read with a beautiful, accomplished novel hidden in its genetic code, expressing itself like a sudden bright blue eye in a family of brown-eyed children---at the most surprising times."
---John Hodgman, author of" The Areas of My Expertise"
"Diane Vadino is a writer of enormous gifts, all of which are on display here, in her brilliant debut: a keen intelligence and wit, an amazing imagination, and an incisive understanding of human beings and the dilemmas---fantastical and mundane---in which they entangle themselves. She is that rarity: a young artist able to offer wisdom without pretension, inspiration without inhibition. I have no doubt this is the beginning of a long and wonderful career."
---Nicholas Christopher, author of" The Bestiary "and" A Trip to the Stars"
"Diane Vadino is a warm, funny, and talented young writer. In her terrific first novel she transports us to the roller-coaster ride that is single life in the city---pleasingly paced, perfectly detailed scenes replete with Diane von Furstenberg dresses, meatloaf sandwiches, a job in media, credit card debt thanks to various bridesmaid honors, and crushing heartbreak at a downtown RadioShack. Never again will I reflect on those excruciatingly embarrassing moments of obsessive young love and feel alone."
---Jenny Minton, author of" The Early Birds"
"Fabulously entertaining, insightful, and touching in its telling of a young woman finding her own voice, her own path in life. D
Characters
| | |
| --- | --- |
| Name | Nilssen, Betsy |
| Gender | Female |
| Occupation | Magazine editor |
Name
Callahan, Bridget
Gender
Female
Trait
Engaged
Genre

Fiction
Romance
--Contemporary
--Humorous
Humor


Topics

Magazine editors
Female friendship
Crushes
Relationships
Love
Weddings


Setting

New York