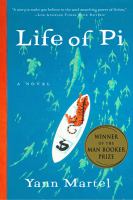 Life of Pi
Annotation
The son of a zookeeper, Pi Patel has an encyclopedic knowledge of animal behavior and a fervent love of stories. When Pi is sixteen, his family emigrates from India to North America aboard a Japanese cargo ship, along with their zoo animals bound for new homes. The ship sinks. Pi finds himself alone in a lifeboat, his only companions a hyena, an orangutan, a wounded zebra, and Richard Parker, a 450-pound Bengal tiger. Soon the tiger has dispatched all but Pi, whose fear, knowledge, and cunning allow him to coexist with Richard Parker for 227 days while lost at sea. When they finally reach the coast of Mexico, Richard Parker flees to the jungle, never to be seen again. The Japanese authorities who interrogate Pi refuse to believe his story and press him to tell them "the truth." After hours of coercion, Pi tells a second story, a story much less fantastical, much more conventional--but is it more true?
Awards
2002 Man Booker Prize for Fiction
2002 Publishers Weekly Best Books of the Year
2002 Library Journal Best Books of the Year
2004 Asian Pacific American Award for Literature
Author Notes
Yann Martel was born in Spain in 1963 of Canadian parents. He grew up in Costa Rica, France, Mexico, and Canada. After studying philosophy at university, he worked variously as a dishwasher, tree planter, and security guard. Then he began to write. When he's not living somewhere else, he lives in Montreal.
Characters
Name
Patel, Pi
Gender
Male
Trait
East Indian
Genre

Fiction
Adventure
--Survival
Psychological
Cinematization


Topics

Teenage boys
New beginnings
Voyages
Shipwrecks
Human-animal relationships
Faith
Survival
Storytelling
Redemption


Setting

Pacific Ocean
Lifeboat
Sea