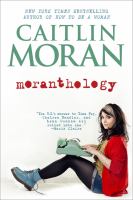 Moranthology
Annotation
The follow-up to Caitlin Moran's breakout hit, How to Be a Woman--A hilarious collection of award-winning columns, available to American readers for the first time ever.
Possibly the only drawback to the bestselling How to Be a Woman was that its author, Caitlin Moran, was limited to pretty much one subject: being a woman. Moranthology is proof that Caitlin can actually be "quite chatty" about many other things, including cultural, social, and political issues that are usually the province of learned professors or hot-shot wonks--and not of a woman who once, as an experiment, put a wasp in a jar and got it stoned. Caitlin ruminates on--and sometimes interviews--subjects as varied as caffeine, Keith Richards, Ghostbusters, Twitter, transsexuals, the welfare state, the royal wedding, Lady Gaga, and her own mortality, to name just a few. With her unique voice, Caitlin brings insight and humor to everything she writes.
Author Notes
Caitlin Moran was named Columnist of the Year by the British Press Awards in 2010, and Critic and Interviewer of the Year in 2011, for her work in the Times of London. Her debut book, How to Be a Woman, won the 2011 Galaxy Book of the Year Award and was an instant New York Times bestseller. You can follow Caitlin on Twitter @caitlinmoran.