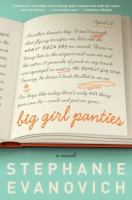 Big Girl Panties
Annotation
A rollicking, sensuous, feel-good romantic comedy about a grieving young widow who decides to get in shape . . . and winds up getting her groove back-and a whole lot more!
Holly didn't expect to be a widow at thirty-two. She also didn't expect to be so big. After her husband's death, food was the one thing she could always count on. Now, those extra pounds make flying coach feel like medieval torture-especially when she's squished next to Logan Montgomery. A personal trainer to famous pro athletes, her seatmate is so hot that he makes Holly sweat in all the right (and so embarrassingly wrong!) places.
Though Holly doesn't make the grade on Logan's first-impression meter, he finds himself intrigued by her sharp wit and keen insights-a welcome change from the high-maintenance models he dates-so he impulsively offers to get her back in shape. A little skeptical but ready to make at least one positive change in her life, Holly agrees.
To Logan's (and her own) surprise, Holly turns out to be a natural in the gym, slimming down into a bona fide looker with killer curves-and a new kind of hunger. Before either of them can stop it, the easy intimacy of their training sessions leads to even more steamy workouts away from the gym.
Logan's best friends, professional baseball player Chase Walker and his wife, Amanda, see that this is more than a fling, even if Logan and Holly don't. But can a man whose whole life depends on looks commit himself to a woman who doesn't fit his ideal Now that Holly's turning other men's heads, does she even need Logan anymore Are they a couple built to last . . . or destined to fizzle
Characters
Name
Holly
Gender
Female
Trait
Widow
| | |
| --- | --- |
| Name | Montgomery, Logan |
| Gender | Male |
| Occupation | Personal trainer |
Genre

Fiction
--Contemporary women
Humor
Romance
--Chick lit
--Humorous


Topics

Widows
Overweight persons
Fitness experts
Self-esteem
Exercise
Unexpected love
Grief
Loss
Sexual relationships
Friendship