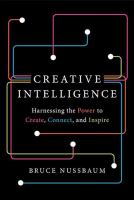 Creative Intelligence
Annotation
The first book to identify and explore Creative Intelligence as a new form of cultural literacy and a method for driving innovation and sparking start-up capitalism
The world is quickly changing in ways we find hard to comprehend. Conventional methods of dealing with problems have become outmoded. To be successful, one can't just be good; one must also be a creator, a maker, and a doer.
In Creative Intelligence, innovation expert Bruce Nussbaum charts the making of a new literacy-Creative Intelligence, or CQ. From corporate CEOs trying to parse the confusing matrix of global business to K-12 teachers attempting to reach bored kids in classrooms, Nussbaum shows how CQ can become a powerful method for devising solutions and a practical antidote to uncertainty and complexity. It's a skill set that explorers have tacitly used for eons but that is explicitly revealing its secrets to us only now.
Nussbaum investigates how people, organizations, and nations are learning to be more creative, and the ways in which those groups are enhancing their CQ. He offers five new creative competencies-Knowledge Mining, Framing, Playing, Making, and Pivoting-to help individuals and organizations learn to create routinely and well.
Smart and eye-opening, Creative Intelligence helps boost creative capacity and inspires us to connect our creative output with a new type of economic system called Indie Capitalism, where creativity is the source of economic value; entrepreneurs drive growth; and social networks are the building blocks of the economy.
Genre

NonFiction
Psychology


Topics

Creativity
Management
Problem solving
Social networking
Motivation
Economics