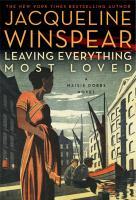 Leaving Everything Most Loved
Annotation
London, 1933. Some two months after the body of Usha Pramal is found in the brackish water of a south-London canal, Maisie Dobbs is contacted by the dead woman's brother, newly arrived from India, to find her killer. Scotland Yard made no arrests in the case, and there is reason to believe they failed to conduct a full and thorough investigation. Usha had spent several years living in an Ayah's Hostel, a place where lodging was offered to women who had left India with their British employers, only to be turned out penniless when their services were no longer needed.
But Maisie soon finds out that Usha is somewhat different—and the case becomes even more challenging when another Indian woman, scheduled to meet with Maisie to talk about Usha, is found murdered just hours before interview. As Maisie becomes immersed in a culture that already holds a fascination for her, she continues to struggle with the "unfinished business" of a previous case, and also with the pull of travel and her desire to follow in the footsteps of her former mentor, Maurice Blanche, and see more of the world. At the same time, her lover, James Compton, gives her an ultimatum that she can't ignore.
Bringing to a close a crucial chapter in the life and times of Maisie Dobbs, Leaving Everything Most Loved marks a pivotal moment in this "outstanding" (Marilyn Stasio, New York Times Book Review) series.
Characters
Name
Dobbs, Maisie
Gender
Female
Occupations
Private investigator
British Secret Service agent
Trait
British
Genre

Mystery
--British
--Women sleuths
--Detective, Professional
Fiction
Historical
Suspense


Topics

East Indian immigrants
Search for truth
Murder investigations
Women in peril
Search for truth
British culture
East Indian culture
Marriage proposals
Life choices


Setting

London, England
England

Series

Maisie Dobbs mystery

1
Maisie Dobbs
2
Birds of a feather
3
Pardonable lies
4
Messenger of truth
5
An Incomplete revenge
6
Among the mad
7
The Mapping of love and death
8
A Lesson in secrets
9
Elegy for Eddie
10
Leaving everything most loved