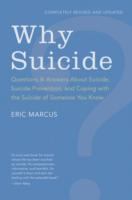 Why Suicide?
Annotation
"The need for this book is obvious.Why Suicide is a must read for anyone who is a student of life."
— John Shelby Spong, author ofEternal Life: A New Vision—Beyond Religion, Beyond Theism, Beyond Heaven and Hell
Subtitled "Questions and Answers About Suicide, Suicide Prevention, and Coping with the Suicide of Someone You Know,"Why Suicide? by Eric Marcus is an important, non-judgmental guide that bestselling author Jonathan Kellerman calls, "compassionate, informative, and insightful." Anyone whose life has been dramatically touched by this most shattering occurrence can find answers and solace in this extraordinary book.
Author Notes
Eric Marcus is the author of several books and coauthor of Breaking the Surface, the number one New York Times bestselling autobiography of Olympic diving champion Greg Louganis. Visit the author online at www.eremarcus.com and www.whysuicidebook com.