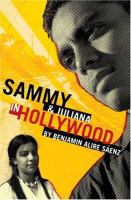 Sammy and Juliana in Hollywood
Annotation
A YA novel Latino-style--it's 1969 and Hollywood is a dirt-poor barrio in small town America.
Awards
2005 Americas Award for Children's and Young Adult Literature
Author Notes
Benjamin Alire Saenz was born in 1954 in his grandmother's house in Old Picacho, a small farming village in the outskirts of Las Cruces, New Mexico. He was the fourth of seven children and was raised on a small farm near Mesilla Park. Later, when the family lost the farm, his father went back to his former occupation -- being a cement finisher. His mother worked as a cleaning woman and a factory worker. During his youth, he worked at various jobs -- painting apartments, roofing houses, picking onions, and cleaning for a janitorial service. He graduated from high school in 1972 and went on to college. He studied philosophy and theology in Europe for four years and spent a summer in Tanzania. He eventually became a writer and professor and moved back to the border -- the only place where he feels he truly belongs.