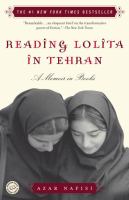 Reading Lolita in Tehran
Annotation
Includes a reader's guide and list of suggested reading.
Awards
2003 Library Journal Best Books of the Year
2004 Book Sense Book of the Year
Author Notes
Azar Nafisi is a professor at Johns Hopkins University. She won a fellowship from Oxford and taught English literature at the University of Tehran, the Free Islamic University and the University of Allameh Tabatabai in Iran. She was expelled from the University of Tehran for refusing to wear the veil and left Iran for America in 1997. She has written for The New York Times, The Washington Post, The Wall Street Journal and The New Republic, has appeared on countless radio and television programs, and is the author of Anti-Terra: A Critical Study of Vladimir Nabokov's Novels. She lives in Washington, D.C., with her husband and two children. Visit her website at http://dialogueproject.sais-jhu.edu.
Genre

NonFiction
Autobiography
Memoir


Topics

Teachers
English literature
American literature
Books and reading


Setting

Iran