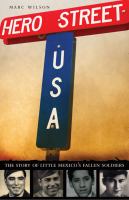 Hero Street, U. S. A.
Annotation
The first book-length account of a story too long overlooked
Claro Solis wanted to win a gold star for his mother. He succeeded--as did seven other sons of "Little Mexico."
Second Street in Silvis, Illinois, was a poor neighborhood during the Great Depression that had become home to Mexicans fleeing revolution in their homeland. In 1971 it was officially renamed "Hero Street" to commemorate its claim to the highest per-capita casualty rate from any neighborhood during World War II. Marc Wilson now tells the story of this community and the young men it sent to fight for their adopted country.
Hero Street, U.S.A. is the first book to recount a saga too long overlooked in histories and television documentaries. Interweaving family memories, soldiers' letters, historical photographs, interviews with relatives, and firsthand combat accounts, Wilson tells the compelling stories of nearly eighty men from three dozen Second Street homes who volunteered to fight for their country in World War II and Korea--and of the eight, including Claro Solis, who never came back.
As debate swirls around the place of Mexican immigrants in contemporary American society, this book shows the price of citizenship willingly paid by the sons of earlier refugees. With Hero Street, U.S.A., Marc Wilson not only makes an important contribution to military and social history but also acknowledges the efforts of the heroes of Second Street to realize the American dream.
Genre

NonFiction
History
Biography


Topics

Soldiers
Heroes
War veterans
Military history
Mexican Americans
Mexican immigrants
Hispanics
Race relations
American history
World War II
Korean War


Setting

Illinois