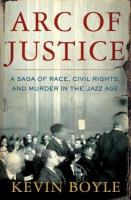 Arc of Justice
Annotation
An electrifying story of the sensational murder trial that divided a city and ignited the civil rights struggle. Historian Kevin Boyle weaves the police investigation and courtroom drama of Sweet's murder trial into an unforgettable tapestry of narrative history that documents the volatile America of the 1920s and movingly re-creates the Sweet family's journey from slavery through the Great Migration to the middle class.
Awards
2004 National Book Awards
2004 New York Times Notable Books of the Year
Author Notes
Kevin Boyle is an associate professor of history at Ohio State University.
Genre

NonFiction
Sociology
History


Topics

Civil Rights
Racial conflict
Racial integration
African Americans
African American families
Human rights
Trials
Murder trials
Criminal justice system
Law
Lawyers
Sociology


Setting

Detroit, Michigan