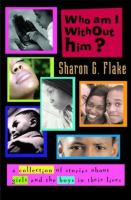 Who Am I Without Him?
Annotation
There is "The Ugly One," whose only solace comes when she is locked inside her own head. In "Wanted: A Thug," a teenager seeks advice on how to steal her best friend's bad-guy boyfriend. And then there's Erika, who only likes white boys. Sharon Flake takes readers through the minds of girls trying to define themselves while struggling to remain relevant to the boys in their lives. This is a complex, often humorous, always on-point exposition of black youth resolving to find self-worth . . . any way they know how.
Author Notes
Sharon G. Flake was named a Publishers Weekly Flying Start as an author to watch. Her books for teens have received many accolades, including the Coretta Scott King/John Steptoe Award for The Skin I'm In and a Coretta Scott King Honor for Money Hungry. "Flake's strength ... lies in developing genuine, believable adults and children," the Bulletin declared in a starred review for Begging for Change, a Bulletin Blue Ribbon Book and ALA Quick Pick. Ms. Flake is a former youth counselor. She lives in Pittsburgh with her daughter.
Characters
Name
Erika
Gender
Female
Occupation
Student
Trait
African American
Name
Erin
Gender
Male
Trait
African American
Genre

Young adult fiction
Collection
Multicultural


Topics

African Americans
Boyfriends and girlfriends
African American youth
Stealing
Love
Dating