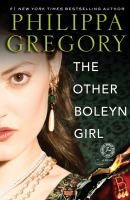 The Other Boleyn Girl
Annotation
Two sisters competing for the greatest prize: the love of a king
When Mary Boleyn comes to court as an innocent girl of fourteen, she catches the eye of Henry VIII. Dazzled by the king, Mary falls in love with both her golden prince and her growing role as unofficial queen. However, she soon realizes just how much she is a pawn in her familys ambitious plots as the kings interest begins to wane and she is forced to step aside for her best friend and rival: her sister, Anne. Then Mary knows that she must defy her family and her king, and take her fate into her own hands.
A rich and compelling tale of love, sex, ambition, and intrigue, The Other Boleyn Girl introduces a woman of extraordinary determination and desire who lived at the heart of the most exciting and glamorous court in Europe and survived by following her own heart.
Author Notes
Philippa Gregory is the author of several novels, including The Virgin's Lover and the New York Times bestseller The Queen's Fool. Wideacre, her debut, was also a New York Times bestseller and the first in a trilogy that includes The Favored Child and Meridon. A writer and broadcaster for radio and television, she lives in England. She welcomes visitors and messages at her website www.philippagregory.com.
Characters
Name
Boleyn, Mary
Gender
Female
Traits
Married
Mother
| | |
| --- | --- |
| Name | Boleyn, Ann |
| Gender | Female |
Genre

Fiction
Biographical
Historical


Topics

Family relationships
Sisters
Ambition
Social climbing
Court intrigue
Henry VIII, King of England
Mistresses
Sibling rivalry
Court life
Royalty
Desire
Queens
Tudor England


Setting

England