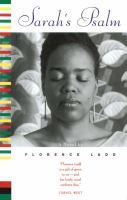 Sarah's Psalm
Annotation
This searing first novel is the story of Sarah Stewart, a young black Harvard graduate in the 1960s whose growing interest in Africa--and down a path of self-discovery, love, and the choice between loyalty and truth.
This is at once the story of the emerging civil rights movement and the beginning of Afro-centrism. Lyrical. Lyrical, moving, and ultimately uncompromising,
Sarah's Psalm
is also a powerful story of love and coming of age.
Awards
1997 Black Caucus of the America Library Association Award
Characters
Name
Thompson, Sarah Stewart
Genders
Female
Female
Occupations
Student
Student
Traits
African American
Married
African American
Married
Name
Mangane, Ibrahim
Genders
Male
Male
Occupations
Writer
Filmmaker
Writer
Filmmaker
Traits
Married
Senegalese
Married
Senegalese
Genre

Historical
Sociological
Love story
Fiction


Topics

Civil rights movement
Troubled marriages
Career vs. family
Self-discovery
Afrocentrism
Man-woman relationships
Marriage
Women's rights
Civil rights movement
Troubled marriages
Career vs. family
Self-discovery
Afrocentrism
Man-woman relationships
Marriage
Women's rights


Setting

Dakar, Senegal
Dakar, Senegal