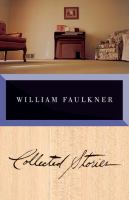 Collected Stories
Annotation
I m a failed poet. Maybe every novelist wants to write poetry first, finds he can t and then tries the short story which is the most demanding form after poetry. And failing that, only then does he take up novel writing. William Faulkner
Winner of the National Book Award
Forty-two stories make up this magisterial collection by the writer who stands at the pinnacle of modern American fiction. Compressing an epic expanse of vision into hard and wounding narratives, Faulkner s stories evoke the intimate textures of place, the deep strata of history and legend, and all the fear, brutality, and tenderness of the human condition. These tales are set not only in Yoknapatawpha County, but in Beverly Hills and in France during World War I. They are populated by such characters as the Faulknerian archetypes Flem Snopes and Quentin Compson, as well as by ordinary men and women who emerge so sharply and indelibly in these pages that they dwarf the protagonists of most novels."


Author Notes
William Faulkner, one of the greatest writers of the twentieth century, was born in New Albany, Mississippi, on September 25, 1897. He published his first book, The Marble Faun, a collection of poems, in 1924, but it is as a literary chronicler of life in the Deep South-particularly in the fictional Yoknapatawpha County, the setting for several of his novels-that he is most highly regarded. In such novels as Sanctuary (1931), The Hamlet (1940), The Town (1957), and The Mansion (1959), he explored the full range of post-Civil War Southern life, focusing both on the personal histories of his characters (especially members of the Snopes family) and on the moral uncertainties of an increasingly dissolute society. His other novels include The Sound and the Fury (1929), As I Lay Dying (1930), Light in August (1932), Absalom, Absalom! (1936), The Unvanquished (1938), Intruder in the Dust (1948), Requiem for a Nun (1951), A Fable (1954), and The Reivers (1962). For the latter two books, he was awarded the Pulitzer Prize. He also wrote several volumes of short stories, as well as collections of poems and essays. In combining the use of symbolism with a stream-of-consciousness technique, he created a new approach to the writing of fiction. In 1949, he was awarded the Nobel Prize for Literature. William Faulkner died in Byhalia, Mississippi, on July 6, 1962.