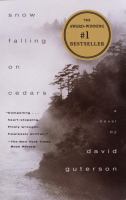 Snow Falling on Cedars
Annotation
Winner of the PEN/Faulkner Award American Booksellers Association Book of the Year Award San Piedro Island, north of Puget Sound, is a place so isolated that no one who lives there can afford to make enemies. But in 1954 a local fisherman is found suspiciously drowned, and a Japanese American named Kabuo Miyamoto is charged with his murder. In the course of the ensuing trial, it becomes clear that what is at stake is more than a man's guilt. For on San Pedro, memory grows as thickly as cedar trees and the fields of ripe strawberries--memories of a charmed love affair between a white boy and the Japanese girl who grew up to become Kabuo's wife; memories of land desired, paid for, and lost. Above all, San Piedro is haunted by the memory of what happened to its Japanese residents during World War II, when an entire community was sent into exile while its neighbors watched. Gripping, tragic, and densely atmospheric,
Snow Falling on Cedars
is a masterpiece of suspense-- one that leaves us shaken and changed. "Haunting.... A whodunit complete with courtroom maneuvering and surprising turns of evidence and at the same time a mystery, something altogether richer and deeper."--
Los Angeles Times
"Compelling...heartstopping. Finely wrought, flawlessly written."--
The New York Times Book Review
Awards
1995 PEN/Faulkner Award for Fiction
1994 Barnes and Noble Discover Great New Writers Award
1995 Pacific Northwest Bookseller Awards
Author Notes
David Guterson is the author of the novels Snow Falling on Cedars and East of the Mountains, and of the story collection The Country Ahead of Us, the Country Behind. His forthcoming novel, Our Lady of the Forest, will be published in October of 2003. A Guggenheim fellow and Pen/Faulkner Award winner, he lives in Washington State.
Characters
Name
Miyomoto, Kabuo
Gender
Male
Occupation
Fisherman
Traits
Japanese American
Married
Father
Murder suspect
Name
Miyomoto, Hatsue
Gender
Female
Traits
Japanese American
Married
Mother
Name
Chambers, Ishmael
Gender
Male
Occupations
Newspaper manager
Journalist
Trait
Unmarried
Genre

Love story
Legal
--Courtroom
Historical
Mystery
Cinematization
--Movie
Fiction


Topics

Homefront during war
First loves
Childhood sweethearts
Interracial relationships
Japanese Americans
World War II
Japanese internment
Relocation camps
Land disputes
Murder investigations
Murder trials
Community relationships
Moral dilemmas
Racism
Justice
Jealousy
Commercial fishing


Setting

San Piedro, Washington
Puget Sound, Washington
Washington
Island
Courtroom