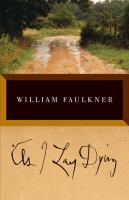 As I Lay Dying
Annotation
"I set out deliberately to write a tour-de-force. Before I ever put pen to paper and set down the first word I knew what the last word would be and almost where the last period would fall." --William Faulkner on As I Lay Dying

As I Lay Dying is Faulkner's harrowing account of the Bundren family's odyssey across the Mississippi countryside to bury Addie, their wife and mother. Narrated in turn by each of the family members--including Addie herself--as well as others the novel ranges in mood, from dark comedy to the deepest pathos. Considered one of the most influential novels in American fiction in structure, style, and drama, As I Lay Dying is a true 20th-century classic.

This edition reproduces the corrected text of As I Lay Dying as established in 1985 by Noel Polk.
Author Notes
William Faulkner, one of the greatest writers of the twentieth century, was born in New Albany, Mississippi, on September 25, 1897. He published his first book, The Marble Faun, a collection of poems, in 1924, but it is as a literary chronicler of life in the Deep South-particularly in the fictional Yoknapatawpha County, the setting for several of his novels-that he is most highly regarded. In such novels as Sanctuary (1931), The Hamlet (1940), The Town (1957), and The Mansion (1959), he explored the full range of post-Civil War Southern life, focusing both on the personal histories of his characters (especially members of the Snopes family) and on the moral uncertainties of an increasingly dissolute society. His other novels include The Sound and the Fury (1929), As I Lay Dying (1930), Light in August (1932), Absalom, Absalom! (1936), The Unvanquished (1938), Intruder in the Dust (1948), Requiem for a Nun (1951), A Fable (1954), and The Reivers (1962). For the latter two books, he was awarded the Pulitzer Prize. He also wrote several volumes of short stories as well as collections of poems and essays. In combining the use of symbolism with a stream-of-consciousness technique, he created a new approach to the writing of fiction. In 1949 he was awarded the Nobel Prize for Literature. William Faulkner died in Byhalia, Mississippi, on July 6, 1962.
Characters
Name
Bundren, Addie
Gender
Female
Traits
Married
Mother
Deceased
Poor
Genre

Classic
Literary
Southern fiction
Psychological
Allegory
Fiction


Topics

Death and dying
Deathbed promises
Family relationships
Journeys


Setting

Mississippi
Rural