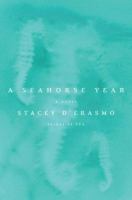 A Seahorse Year
Annotation
In Stacey D'Erasmo's acclaimed second novel, a quintessentially modern family is ultimately transformed by the emerging breakdown of their teenaged son, Christopher. When he disappears from his San Francisco home, his extended family comes together in a frantic search. But Christopher is in much more trouble than they know, and their attempts to support him and to save him will challenge their assumptions about themselves and one another.
Exquisitely crafted, A Seahorse Year is an absorbing read that explores the ways in which love moves us to actions that have both redemptive and disastrous consequences, sometimes in the same heartbeat.
"A Seahorse Year compellingly explores love's connections and limits . . . [D'Erasmo] writes with a graceful, sometimes devastating directness, in clear, crisp phrases lined with subtle lyricism." -- Boston Globe
"Beautiful, addictive . . . an elegant, glancing humor flecks the book . . . wonderfully observed ." -- Newsday
"You could read Stacey D'Erasmo for the subtlety of her insights or the beauty of her language or for her tumbling, shifting arrangements of plot and characters . . . Or you could just open A Seahorse Year and be mesmerized." -- The Advocate
Stacey D'Erasmo is the author of the novel Tea, which was selected as a New York Times Notable Book and a Book Sense 76 Pick. A Seahorse Year, her second novel, was a San Francisco Chronicle bestseller. She lives in New York City.
Awards
2005 Publishing Triangle Awards
2005 Lambda Literary Awards
Characters
Name
Nan
Gender
Female
Occupation
Bookstore owner
Traits
Lesbian
Mother
Abused
Name
Hal
Gender
Male
Occupation
Accountant
Traits
Gay
Father
Name
Christopher
Gender
Male
Traits
Schizophrenic
Troubled
Name
Marina
Gender
Female
Occupation
Artist
Trait
Lesbian
Genre

Domestic
Fiction
Psychological


Topics

Teenage boys
Mental illness
Schizophrenia
Runaways
Extended families
Parenthood
Gay men
Lesbians
Relationships
Life changes


Setting

San Francisco, California
Northern California