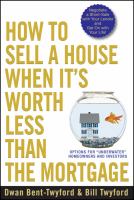 How to Sell a House When It's Worth Less Than the Mortgage
Annotation
Due to the wave of refinancing in recent years, and the fall in home values, in 2009 about 12 million homeowners and investors will be "underwater"--owing more than their property is worth. This book explains all the options for these homeowners who are trapped with houses they want to get free from, people whose property value has dropped so low that they can't sell the property, people whose mortgage payment has adjusted and now they can't afford the property. In addition to offering advice on subject to's, rentals, leases, loan modifications and more...the book will teach America how to short sale their own home.
Author Notes
Dwan Bent-Twyford, "The Queen of Short Sales," is the country's leading authority on buying and selling "underwater" properties. She runs popular boot camps for real estate investors and is a sought-after public speaker on real estate investing. She is also the coauthor of Short-Sale Pre-Foreclosure Investing, from Wiley.
Bill Twyford is a successful real estate investor, speaker, author, motivator, and teacher.