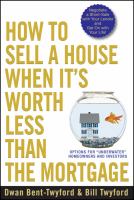 How to Sell a House When It's Worth Less Than the Mortgage
Annotation
The crash in housing prices and other economic forces have left millions of property owners "underwater"-owing more on their mortgage than their property is worth. If you're one of them, trapped in a home you can't sell and pressured by mortgage payments, the situation can feel hopeless.
Author Notes
Dwan Bent-Twyford, "The Queen of Short Sales," is the country's leading authority on buying and selling "underwater" properties. She runs popular boot camps for real estate investors and is a sought-after public speaker on real estate investing. She is also the coauthor of Short-Sale Pre-Foreclosure Investing, from Wiley.
Bill Twyford is a successful real estate investor, speaker, author, motivator, and teacher.