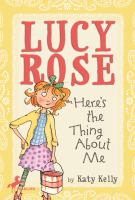 Here's the Thing about Me
Annotation
In her fourth book, eight-year-old Lucy Rose, a not-so-average girl with a not-so-boring life in Washington, D.C., helps a friend turn a plumbing store into a bakery--among the many, many other things that are keeping her a busy bee. Illustrations.
Characters
| | |
| --- | --- |
| Name | Rose, Lucy |
| Gender | Girl |
| Occupation | Student |
Genre

Fiction
Juvenile
Humor
Family


Topics

Moving
Grandmothers
Journals
Peer pressure
Anonymous letters
Advice columnists
Teasing
Family relationships


Setting

Washington, D.C.

Lucy Rose series

1
Here's the thing about me
2
Big on plans
3
Busy like you can't believe