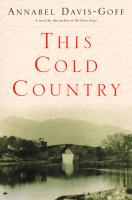 This Cold Country
Annotation
The author of the
New York Times
Notable Book
The Dower House
, known for her elegant prose and her keen eye for the nuances of class, now adds the lush, large-screen immediacy of a Merchant-Ivory film to her compelling tale of a woman and a culture forever changed by World War II.
This Cold Country
is an old fashioned comedy of manners: the story of a middle class English girl who precipitously marries into the closed upper-class world of the Anglo-Irish during the 2nd World War and finds herself burdened by their crumbling legacy, both in property and personalities.
Only a few days after Daisy Creed precipitously marries Patrick Nugent, scion of an Anglo-Irish family, Patrick rejoins his regiment in France. Having never met her in-laws, Daisy sets sail for her new home, Dunmaine, County Waterford. The family's affairs echo its estate: grand and forbidding on the outside, decaying and corrupt within. Patrick's vain, spoiled sister, Corisande, soon flees to her lover, leaving Daisy alone with Patrick's feeble brother, Mickey, and grandmother, Maud, who has taken to her bed. In her determination to save Dunmaine and secure her place as its mistress, Daisy unwittingly becomes an accomplice in a dangerous political plot, as old and as fraught as The Troubles. With grace and wit, Davis-Goff portrays a lost way of life and the war that rendered it obsolete. In the character of Daisy Creed she has created an unforgettable Everywoman of her time--part Elizabeth Bennett, part Scarlett O'Hara.
Characters
Name
Creed, Daisy
Gender
Female
Trait
English
Name
Nugent, Patrick
Gender
Male
Occupation
Army officer
Trait
Irish
Genre

Fiction
Coming of age
Domestic
Historical
Love story
War


Topics

World War II
Whirlwind romances
Marriage
War-torn lovers
In-laws
Political intrigue


Setting

Dunmaine, County Waterford, Ireland
Estate