Chapter Excerpt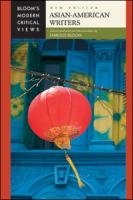 Identity and belonging are just two of the many themes Asian-American writers have explored. This new edition in theBloom's Modern Critical Viewsseries offers fresh critical evaluations of this important body of American literature. Canonical writers such as Maxine Hong Kingston and Amy Tan are discussed in addition to the voices and traditions that have emerged from the United States' diverse South and East Asian communities. This volume is complemented by a chronology, a bibliography, notes on the contributors, and an introductory essay from master scholar Harold Bloom.

---

Excerpted from Asian-American Writers, New Edition
All rights reserved by the original copyright owners. Excerpts are provided for display purposes only and may not be reproduced, reprinted or distributed without the written permission of the publisher.