Chapter Excerpt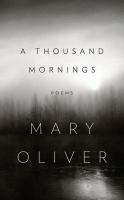 I GO DOWN TO THE SHORE

I go down to the shore in the morning
and depending on the hour the waves
are rolling in or moving out,
and I say, oh, I am miserable,
what shall--
what should I do? And the sea says
in its lovely voice:
Excuse me, I have work to do.

---

Excerpted from A Thousand Mornings by Mary Oliver
All rights reserved by the original copyright owners. Excerpts are provided for display purposes only and may not be reproduced, reprinted or distributed without the written permission of the publisher.