Chapter Excerpt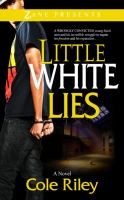 Little White Lies


FALL 2006

The word around the neighborhood was that I was the good one, the levelheaded, ambitious boy who would make good one day. And never shame the family. I tried to be normal, the quiet nerd, the potential breadwinner. However, that was not to be the case.

My father said I reminded him of Doctor J, Elgin Baylor, Oscar Robertson, and even Michael Jordan when I found the proper stroke, the proper dribble, the proper pass. We used to shoot hoops in the backyard, and later on a tattered basketball court with tufts of grass peeking through the buckled asphalt. School was something I hated. I was never any good with numbers, grammar, or science. But put a basketball in my hands and I was an artist.

A rowdy crowd of supporters turned out to see us topple Cardozo by 12 points, allowing our team to capture a share of the division title. The Cardozo squad was playing without their top sophomore forward, Akim Lawrence, who was nursing a head cold. Still, the red-hot guards almost snatched the victory away in the third quarter with four three-pointers.

"Melvin, this win would mean a lot for our franchise and our school," Ron Faulk, our coach, said to me. "You've shown leadership throughout our entire season and you cannot let us down now. Not now. They're underestimating you and what you bring to our team. Kick some butt, son."

I thought back about how we beat Bishop Ford, Jefferson and even Nazareth. These dudes were a snap for us. I started rebounding and blocking shots, going out and putting my hand in the faces of the slick guards. Coach Faulk called our opposition Heckle and Jeckle, after the TV cartoon crows. Were they magpies?

Our six-eleven center, Houston Crown, stood in our huddle, grabbing me by the arm and speaking in his deep baritone voice. "They're talking a lot of smack out there. They say we're punks, we're chumps. Everybody thinks they can beat us. I take this personal and I know you guys do too."

"Shit, we cannot let them come to our house and talk a lot of shit," Emory Lewis, our point guard, said. "We can't let them disrespect us and take the win. We've got to turn it up. We got to put them in their place. Smash-mouth ball, guys, smash-mouth ball."

The only game we lost all season was a blowout with Boys & Girl High in Brooklyn. They kicked our asses. I knew our team was better than that. I was real emotional 'bout that game. The reason I was not in the line-up was back spasms; it hurt to move, much less run up and down the court. Now, the guys were counting on me, looking at me and weighing whether I was up to the task.

Coach Faulk watched as one of the magpies shot the ball at the top of the key and it rimmed out. He called time out and we ran toward the sidelines in our snazzy red and black uniforms. All eyes were on me. The coach diagrammed a play calling for me to shoot a jumper at the corner.

"We got to settle down," the coach said in a drained whisper. "Don't rush the shots. Play methodically. Focus. We got to put the ball in the hands of Melvin and he'll take care of business. Won't you, Melvin?"

I nodded. I shot the jumper but one of their players got a hard foul on me as I was going up with the ball. The ball went in on the foul shot, but the second one came out and bounced into the hands of the opposition.

The enemy called a time-out. We watched them and their coach, a loudmouth usually playing to the cameras. He gestured wildly and angrily, and slapped one of the boys on the back. They came back out and tried to do the play, which we stopped dead in its tracks. Emory picked off the pass and outran the speedy magpies to do a weak lay-up. Each team had another shot to end the game in regulation, until I put in a contested jumper as time expired.

They lifted me on their shoulders and carried me to the locker room. Spectators were pouring out of the stands, yelling and screaming my name. I felt damn good. As I was getting dressed, Coach Faulk smiled and said the sky was the limit for me. Emory walked past me and said we're going out to celebrate tonight.

I figured we had one game left to play, a brawl with St. Peter's Prep, and that would be a warm-up for the City Finals. Tonight, I'd act a total fool. I didn't want to think about how I got hurt during the game with Westinghouse just a year ago. One of the opposing players tangled my leg in his, maybe intentionally, as we went up for a rebound and I was writhing on the wood floor, unable to get up.

"Are you hurt, son?" my coach asked me. "Can you get up? Do you think you can get off the court unassisted?"

He was giving me a way out, to bravely get back up and trot off the court like a warrior. However, I felt like a punk, a sissy. Something had given way in my leg and my ankle when I fell. I felt it pull and later it burned like hell.

"Can you get up?" Coach Faulk wanted to do the right thing.

"Dammit, I don't think I can," I whined.

In no time, the coach waved over the trainers, who knelt beside me and manipulated my leg, then my ankle. All on the left side. I grimaced with pain and tried to hide my face with my shirt so the rest of the team wouldn't see how much I was suffering with this damn thing.

The coach whispered to the chief trainer in an urgent voice, gripping him on the arm. "Do you think he'll be able to play tonight?"

"Not in this game," the trainer replied. The arena was hushed while they waited to see if I would leave the court under my own power. I was lifted up, between two burly players and carried to the bench. Some of the team's admirers clapped and hooted while those in the know reserved their applause to see how badly I was hurt.

After the game, which we lost by eight points, I was told that I had a bad left mid-ankle sprain but there was nothing seriously wrong with my leg. When the doctor and the chief trainer told me the good news after I was X-rayed at the hospital, I was overjoyed. Coach Faulk said I would probably be out a week or two. They wrapped my ankle tightly, gave me some painkillers, and sent me home.

"You gave a good acting job out there," my father hissed. He was always pushing me, pushing me. "You could have got up if you wanted to. You acted like a punk."

"Don't call me that," I protested. "The trainer said I hurt my ankle and that was that. The coach didn't want me to play."

"It's because of you that the team lost the game. You know that."

I shouted at him angrily. "That's not true!"

He smiled cruelly. "You punked out. You punked out when they needed you most. How does that feel, knowing that you didn't give your all?"

I turned from him and hobbled on my crutches to my room. My father was still yelling and ranting about how much of a coward I was, so I drowned him out with some jams from Biggie and Tupac. I knew how much he hated rap. Nigger baboon music, he called it.

"Turn that shit down," he screamed. "Turn that fuckin' shit down. Don't let me have to come in there. I'll knock the damn hell out of you."

I put on some headphones and listened to the music. There was something about him that reminded me about Drake Rice, whose father had high hopes for him as well. Drake's daddy was convinced he was going to play in the NBA and be a superstar. Just like Wilt or Bill Russell. My own father had those same damn dreams; one of many men living through their sons to reach goals that they could never attain.

About four years ago, Drake was leaving a party in East New York, a part of poorest Brooklyn, with a group of friends. Some dudes got out of a car and walked toward the high school basketball star. Two of them were waving guns when the cat with the hoodie yelled for the tall nigga not to move.

Everybody scattered and began running. Both of the thugs started firing wildly at the people. A girl later told the cops that you could hear the string of shots, pop-pop-pop-pop, the bullets whistling in the air past them. Drake stumbled and fell to the pavement and couldn't get up.

When they turned him over, he had two gunshots in the back. One of the parents carried him to his car and sped him to the hospital. Both of the bullets had hit his spinal cord, leaving him crippled from the waist down.

"Damn, they could've shot me in the head and my troubles would have been over," Drake told me when I visited him. "This is totally fucked up."

I completely agreed with him but I would never tell him to his face. God can be sometimes a trickster. Drake had everything in front of him. The good life. Everything. But now he was going to be trapped in that damn chair for life.

"Sure, we're pulling for you and living through you because if you can make the journey to the high life, then we will be a success too," my father said to me while going to the grocery store. "A lot of folks are counting on you. You've got a responsibility to not just yourself but to everybody. Remember that?"

Damn it, I thought. If people let me find my own way, everything would be cool. So much pressure, so much tension. I wanted to blow off steam but I didn't know how. I didn't do anything out of my character, nothing crazy, nothing to make my family ashamed of me.

---

Excerpted from Little White Lies by Cole Riley
All rights reserved by the original copyright owners. Excerpts are provided for display purposes only and may not be reproduced, reprinted or distributed without the written permission of the publisher.