Chapter Excerpt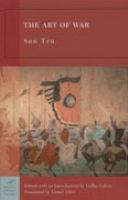 All warfare is based on deception. Thus, when able to attack, we must seem unable. Hold out bait to entice the enemy. Feign disorder, and crush him. If he is in superior strength, evade him. If your opponent is quick to anger, seek to irritate him. Pretend to be weak, that he may grow arrogant. —The Art of WarWritten before Alexander the Great was born, this Chinese treatise on war has become one of the most influential works on the subject. Read widely in the east since its appearance 2500 years ago, The Art of War first came to the west with a French Jesuit in 1782. It has been studied by generals from Napoleon to Rommel and it is still required reading in most military academies of the world.Although it was meant to be a practical guide to warfare in the age of chariots, many corporate and government leaders have successfully applied its lessons to battles in the modern dog-eat-dog world. Sun Tzu covers all aspects of war in his time, from strategy and tactics to the proper use of terrain and spies. In this version, Sun Tzu's lessons are brought to life with commentaries from ancient Chinese history, which illustrate both the philosophy and the principles of his teachings.Sun Tzu's one of the earliest realists in international relations theory. The only surviving source on the life of Sun Tzu describes him as a general who lived in the state of Wu in the 6th century BC. Sun Tzu suddenly disappeared when King Helu conquered the state of Chu, therefore his date of death remains unknown.

---

Excerpted from The Art of War by Sun Tzu
All rights reserved by the original copyright owners. Excerpts are provided for display purposes only and may not be reproduced, reprinted or distributed without the written permission of the publisher.