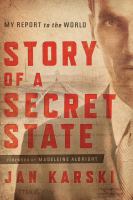 "In the words of James Russell Lowell's rousing hymn: 'Once to every man and nation, comes the moment to decide, in the strife of truth with falsehood, for the good or evil side.' Perhaps more than most of us, Jan Karski faced such a choice in the starkest of possible terms, and made his decision as courageously as one could.... Jan Karski was a patriot and a truth teller; may his words always be read and his legacy never forgotten." -- from the Foreword by Madeleine Albright
---

Excerpted from Story of a Secret State: My Report to the World by Jan Karski
All rights reserved by the original copyright owners. Excerpts are provided for display purposes only and may not be reproduced, reprinted or distributed without the written permission of the publisher.