Chapter Excerpt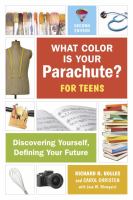 Preface to the Second Edition, Or How Can This Book Help Me?

Welcome to the adventure of your life.
   Wait, isn't this book about choosing a career? Yes, but before you can start making decisions about careers, you really need to think out the life you want and what work will help you get that life. What purpose do you want your life to serve? What purpose does work serve in your life? 
   This book can help you answer those questions.  By reading this book and doing the exercises, you will learn how to describe the life you want as a young adult (or beyond), what you want in a dream job, and how to use that information to help you identify the training, education, and jobs that will help you get the experience and skills you need to qualify for your dream job.
   Work you will enjoy grows out of your values—that is, what is important to you. This book has been written to help you learn, step by step, what values are important to you and what kind of a life you want. That way, you'll be able to describe what makes up a job that is good for you and how to go about getting hired to do work you want to do.
   We know you don't really want to read a book. You're asking, "Isn't there some quicker method of learning what kind of career is right for me?" It would be so much easier if there were a foolproof method for helping each teen discover their perfect job. It would be lovely if there were a "sorting hat" for careers. Put it on your head and instead of saying which Hogwarts house you belong to, it would tell you what job was perfect for you. But there really isn't one perfect job that, if you're lucky enough to guess right, you'll have forever. What's perfect for you will change with age, experience, and the economy. 
   Like the Knights of the Round Table, you have a quest. Except, instead of finding the holy grail, your quest is to find your place in the world, what kind of a life you want, and how you are going to earn a living in ways you can enjoy. Most teens want their adult years to be fun and fulfilling—which is hard to achieve if you hate your job. 
   As fascinating as you are, it can take a while to get to know yourself and to pull information about you and the world of work together. In studying young adult success in transitioning from school to work, it's surprising to find that it takes about ten years to get from no clue, to a detailed plan, to well-employed. So if you hope to spend your quarterlife birthday celebrating your personal and professional success, plan on beginning your career exploration about age fifteen.
   Why fifteen? There are lots of reasons, but the most compelling is that you've still got plenty of time to become aware of dozens of careers, check them out, toss some out, find some more to explore, and eventually find several options that really interest you. In addition, planning ahead gives you time to take classes that will improve your employment skills or let you go deeper into subjects you like.
   If you're just fifteen, you can skip the first four chapters (for now). Read them when you're seventeen or eighteen. Those chapters are for older teens with some work experience, and teach you how to find your favorite interests, skills, and goals to create a description of what you want in a job. We suggest you start reading this book at the end. Chapter 12 is about the life you want as a twentysomething, which is a good goal to start thinking about now!  You might also want to check out How to Find What You Love to Do: Naming Your Interests (chapter 1, page 10) and the Party exercise (chapter 2, page 23) to get ideas about career fields to explore. 
   Fifteen is a good age to ask yourself the following question: "Is it important to me to be able to choose and shape the life and work I do, or am I willing to take what's available?" If you want to choose and shape your life, you'll have a great adventure. But first you'll have to learn some new skills for making decisions.  This book will introduce you to those skills. Like learning any new set of skills, you'll get better at them the more you use them.
   If having the life you want or working at a particular job is your definition of the good life, we recommend that by the time you reach age seventeen you read this book—and do the exercises—from cover to cover. By your senior year (or before, if you're the plan-way-ahead type), you should have come up with well-researched strategies for achieving your work and personal goals.  What's important is not the job you pick—it's learning the process of how to pick one.  After all, most adults have quite a few jobs before they find their dream job.  
   Jobs are like clothing; you have to try on a lot of them before you begin to find your style and outfits that fit you well. And, like the world of fashion, the job market is constantly changing. Some jobs that were in "fashion" a decade ago may not even exist today. Jobs you'll love in your thirties and forties may not exist today. Many students pick a dream job and as they work toward it, they find jobs they like even better. No wonder you want to start this process now, in high school. It takes young people about a decade to wrestle with these issues, make some initial decisions, and find where they fit in the world of work. The sooner you start, the sooner you'll get the life you want.
   Older than fifteen and you haven't done any career exploration or planning? Don't despair. Just read this book and catch up. Learning what you want and designing a career plan will help you no matter what your age.
   We're delighted to have had a chance to update this book. The economy has changed, and so has the job market. Finding a job is tougher than ever—according to the National Association of Colleges and Employers, just 20 percent of last year's college grads have found full-time jobs. But if you know what fascinates you, and you continue to develop and revise your career plans, you'll be better prepared than other job applicants when the time comes to get hired! In addition, we wanted to offer you the very latest in ideas, tools, statistics, and resources that can help you discover the life you want and great jobs to fund that life.
 
 
Introduction

This book is about you—and your future—which is, of course, a very fascinating subject! We want to explore who you are, what's important to you, and what you like to do. Why? We believe life is meant to be lived to the fullest, and we want to give you the tools to create the kind of life you want. We want to help you discover what you'd love to do with your life, especially work that you will love. 
   "But I'm only fourteen [or fifteen, sixteen, seventeen, eighteen]," you say. "I'm too young to be thinking about my life's work!" We agree. We don't expect you to plan out your whole career in high school, or even in college. This book is to help you create your first career path. Your first career path is simply how you want to earn a living as a young adult when you leave school, at whatever level that is. The sooner you start thinking about your future, the more time you have to explore all your options. 
   We think your teen years are a great time to be thinking about your life's work. For many, high school may be the only time you have enough time to check out all the jobs that match your interests. Although this can be done when you are living on your own, it's so much easier to do while your parents are paying your bills! As a young adult, you're beginning to discover what's important to you—how you like to spend your time, who you like to be with, which classes interest you (and which ones don't). And most likely, you're becoming aware that some adults you know—teachers, parents, coaches, and others—really enjoy what they're doing, and others don't. We want to help you find work that you'll enjoy—work that's fun, satisfying, and challenging, all rolled into one.

Who Should Read This Book?

Whether college-bound or work-bound after high school, this book is for you if any of the following describe you:
•  You care about how you'll earn a living.
•  You have career goals but may not know how to reach them.
•  You want to find a college major that's right for you.
•  You want to take as much control over your life as possible.
•  You hope to become financially independent as soon as possible.
•  You hope to find a fun job to finance your life while you figure out what you really want to do for work, what kind of a life you want to have and how you can get that life, and who, as a person, you really want to be.
   In short, if you want work that you love, enjoy, or feel is the right fit for you, and if you're willing to spend some time learning about yourself and about the world of work, this book is for you.

Why Do I Need This Book?

Finding a job you'll love takes not only time and energy but also awareness of many kinds of careers, plus career-choice and job-search skills. Chances are, even if you feel like you're quite busy now, you have time and energy you can devote to increasing your awareness of what kind of work is good for you, and gaining skills that will help you find that kind of work. When we talked with young adults engaged in their own job hunt, they often told us that if they had only known how to use their time in school to make themselves more employable in the future, they would have made better use of that time. 
   Both authors of this book have websites through which they hear from job hunters around the world. They often receive letters from people who say they have been surprised by how hard it has been to find a job, or how long it has taken them.Too many young people use techniques they've heard mentioned over the years.  Unfortunately, today's economy is too tricky to rely on hearsay techniques. Getting a challenging job that pays well and interests you isn't easy. Studying the effective job-search and career development techniques outlined in this book will greatly improve your chances of getting hired for jobs you really want.
   We want you to be prepared, not surprised. We want to help you to work smart, which means developing job-search savvy that will help you now and throughout your adult life. If you use your time now to do some planning for how you want to earn a living, you stand a good chance of achieving your career goals. Even if you're not sure what you want to do—and you're not alone there (many adults feel that way too)—we'll help you discover just what kind of job will be a good and satisfying one for you. You'll learn what you need to know about yourself and about the world of work so that you can make good choices about how you want to live and work.

Why Did We Write This Book?

We want you to find work that you love or build a life you love through work you enjoy. We want to give you the skills necessary to find out what it is you love to do, and to find a job where you can do just that. 
   In our work, we meet thousands of adults who don't know how to find work they love. When they were in high school, very few of them learned effective job-search skills—usually because classes in job-search skills weren't even offered. Even though adults are expected to work, few have been taught how to discover what they most wanted out of work and life, or what employers wanted and expected of them. Of those students planning on college, many don't receive guidance on selecting a major, even though finding the right major is an important step toward finding a great job. 
   We want your life to be different. We want you to have both the skills and the knowledge necessary to find good and rewarding work throughout your life. 
   The world of work changes constantly. Some jobs disappear, while new ones appear; others change significantly because of scientific advances, new technology, or the needs and expectations of society. The strength or weakness of the economy also affects the number and types of jobs available. If you have solid job-search skills and know what you really want to do, you can thrive—or, like a cat, always land on your feet—even when the work world changes.
   Perhaps you've had a few part-time jobs already. Maybe you liked your work, maybe you didn't. More likely, you liked some parts of your work but not others. Those work experiences—and all your life experiences—are valuable because they can tell you important things about yourself and about the work you want to do.
   Are you ready for an adventure? Great! That's what this book can offer you—an adventure in discovering more about you and what's most important to you. So let's get started by looking at your life and discovering your answer to this question: How do I find work I will love?


From the Trade Paperback edition.

---

Excerpted from What Color Is Your Parachute? for Teens, 2nd Edition: Discovering Yourself, Defining Your Future by Carol Christen, Richard N. Bolles
All rights reserved by the original copyright owners. Excerpts are provided for display purposes only and may not be reproduced, reprinted or distributed without the written permission of the publisher.