Chapter Excerpt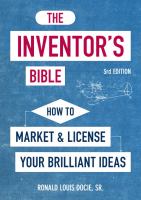 INTRODUCTION
 
When it comes right down to it, profiting from inventions can be quite simple. All you have to do is determine who wants your invention and find out what companies will develop it into a product, approach these companies and establish a mutually satisfactory value and compensation basis for your invention, and finally sip margaritas on the tropical island of your choice. Okay, that last bit is probably somewhat unrealistic, though there are a few who have accomplished such feats.
 
Really, though, the process of commercializing your invention and receiving royalties does not have to be complicated. Mostly, it involves good, old-fashioned common sense; a realistic, methodical approach; the ability to communicate effectively with others; and plenty of hard work and perseverance.
 
This book will help you focus your common sense and develop a realistic, workable plan for commercializing your invention. It will show you how effective communication with a network of industry contacts will help you research your market, target potential business partners, and strike a good deal for your inventions. You'll have to supply the hard work and perseverance, but as an inventor, you already know all about those.
 
Ultimately society benefits from good inventions. Though new inventions are not necessary for existence, some inventions make life on the planet better for people and for the environment. The planet's population is not getting any smaller, and population growth alone will create new challenges and problems in the years to come, necessitating new solutions. This gives inventors a sort of open season for the foreseeable future.
 
Inventions can only provide a benefit if they come into commercial use.The Inventor's Biblewill help you convey your valuable knowledge and developments to others so society can benefit and you can gain fair and just remuneration for your ideas.
 
The Climate for Independent Inventors
 
Forty years ago, many corporations had substantial research and development budgets, and the NIH (Not Invented Here) syndrome was prevalent throughout the country, for that matter throughout the world. The NIH syndrome is characterized by the arrogant belief that no one can improve on the company's own research and development efforts; therefore, companies turned away outside inventors. If it was "not invented here," they didn't want it.
 
In the 1970s corporations became very competitive, and budgets for research and development were among the first to be slashed. As a result, in the 1980s corporations were starving for new products and technologies. There were corporate buyouts; when a company was losing ground in its market, it often bought out a division of another company that had compensatory sales velocity. Corporations also started to show some interest in inventions from outside sources.
 
In the 1990s and now, invention licensing is at an all-time high. Licensing is in vogue. Corporations have departments for licensing in and licensing out. Many large corporations are now offering disclosure agreements and welcoming submissions from outside inventors.
 
One of the biggest turn-offs for companies is being approached by uninformed inventors with unrealistic expectations. Inventors often submit inventions without doing their homework; they are notorious for submitting inventions to the wrong type of companies. This wastes everyone's time. I will tell you how to identify and communicate with companies in the appropriate industries to help you ascertain: whether there is a market for your invention, what the perceived value is for your invention in the marketplace, which of those companies may be appropriate to commercialize your invention, and how to structure the best deal to maximize your potential profits.
 


---

Excerpted from The Inventor's Bible, 3rd Edition: How to Market and License Your Brilliant Ideas by Ronald Louis Docie
All rights reserved by the original copyright owners. Excerpts are provided for display purposes only and may not be reproduced, reprinted or distributed without the written permission of the publisher.