Chapter Excerpt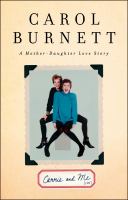 Carrie and Me
PREFACE

In late 2000, my daughter Carrie Hamilton was working on a story, "Sunrise in Memphis," writing in her small Colorado cabin. The story was about a bohemian girl's strange road trip to Elvis's Graceland with a mysterious cowboy. Carrie planned to turn it into a screenplay eventually. Because she felt a kinship with Kate, her main character, Carrie (being a free spirit and somewhat bohemian herself) decided to hit the road and take the same trip for research purposes.

So she got out her maps, filled the gas tank in her Jeep, and headed south toward Memphis. She e-mailed me fresh pages of the story almost daily, along with tales of her own adventures on her journey to Graceland. As a side trip, Carrie visited our family's old stomping grounds in San Antonio, Texas, and Belleville, Arkansas, since the two of us were writing a play together based on my family, who came from those parts of the country.

Carrie didn't live to finish either project. She died of cancer a little over a year later at the age of thirty-eight.

This book has taken me on a bittersweet journey. When she was in the hospital for the last time, Carrie asked me to finish "Sunrise in Memphis" for her, which I haven't been able to do. Try as I might, the characters in the story were hers to write, not mine. Carrie's request had been living with me for over ten years when I finally figured out what I could do.

Fortunately, I had saved all of the letters and e-mails we wrote to each other during her road trip to Memphis. In Part One of this book I've combined that correspondence with my own memories. These include a few episodes I've written about before, but I feel they bear repeating to round out the order of events. I've also written here about Carrie's brave fight against her illness. Part Two is Carrie's story "Sunrise in Memphis," which is fun to read in its own right, but also eerily echoes Carrie's journey.

This book is my way of honoring her last request, bringing to the page many of Carrie's thoughts and feelings and also my own journey with her, including all the ups and downs in the early years (which got pretty bumpy when Carrie became a teenager).

Carrie was widely known as a magnetic young woman with a stunning smile, an infectious laugh, a throaty voice, and the soul of a poet. She was someone who cared deeply for others, particularly for those less fortunate. Whenever a homeless person approached her, she would offer them a deal: five dollars if they told her their story. As you'll see, Carrie used those stories, and the personal narratives shared with her by everyone she met, as inspiration for her prose, her poetry, her music, her lyrics, and her acting. Carrie piled so much into her young life that one can only imagine what she would have tackled and accomplished in the second half.

For myself, I hope you will get to know the daughter I loved and cherished. I can honestly say that just about everyone who knew Carrie loved her. Maybe that's because she loved them right back.

I also hope I've succeeded in bringing Carrie's essence to these pages. I treasure her words, and even after reading them again and again, each time I am grateful for the reminder that she has never left me.

---

Excerpted from Carrie and Me: A Mother-Daughter Love Story by Carol Burnett
All rights reserved by the original copyright owners. Excerpts are provided for display purposes only and may not be reproduced, reprinted or distributed without the written permission of the publisher.