Chapter Excerpt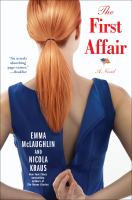 First Affair
Prologue

It was graduation weekend, long after midnight. Parents had been packed off to their motels, or talked into making the drive home alone with U-Hauls affixed to their tails. The air had chilled and there was a fire in the hearth of that sagging house, which someone else rented the year before and someone would rent the year after, the unchanging backdrop to an unchanging drama. Of course we wanted to think our year was different, our heartbreaks, our pregnancy scares, our Fs in organic chem, but they weren't. There was nothing unprecedented about us. Even the enormity of graduating into the worst job market anyone could remember was being played out before fireplaces just like that one on campuses across the country.

We shared beers and bongs, and random liqueurs bogarted at Christmas, looking at each other with affection intensified by a calcifying nostalgia. Someone in our group within the group placed a bottle down on the sticky wood floor and gave it a spin. Just truth or drink. Because by this point we'd made out with whoever we were going to; no point forcing the issue.

My best friend, Lena, her ticket to LAX on her folded quilt upstairs, laughed and nudged me into the impromptu circle, curious to see what I'd finally disclose at the zero hour. She kept stroking her newly straightened hair that made her look like Jennifer Hudson's younger sister, a preparatory step for the financial job she was about to start on the other side of the country.

What would I do without her?

I looked over and saw Mark still trying to get closure with his ex-boyfriend. Ashley was trying 'shrooms, because if not then—when? And the bottle had slowed in front of Willow, who was telling the story of her first penis. Something about a dropped suit at summer camp—more innocent than her interrogator was hoping, but, hey, she answered the question. That was the only rule.

I saw the time on a phone vibrating its way under the sunken couch and my chest pleated in. The hours were dwindling. I knew I would stay up until Lena and I shared a cab to the train station. This would all be over and my internship would begin and I wasn't ready. I dropped my head on my freckled arms, my ginger ponytail flopping like a cast anchor. I wanted one more day on a meal plan. One more class to walk to. One more free movie.

I looked up. The bottle pointed at me. "Jamie," Mateo prompted, rubbing his curls off his forehead still covered by a smattering of acne.

"Yep."

"Oh, shit, she's giving me one of those Jamie smiles. Uh-uh, I'm not letting you off. Lena." Mateo looked to where she stood behind me. "Anything left you want to know?"

"What'd she get on her Spanish final, did she let that skinny guy from sophomore year sleep in my bed, and where are my red shoes?"

I laughed as Mateo shook off her suggestions. "Okay, Jamie, for a shot of Patrón and the last Mallomar. First time you gave a—"

Before the media thought they knew everything about me, before a bunch of lawyers at the Office of the Independent Counsel tried to know everything about me, before one man did know everything about me, I was a girl with secrets.

---

Excerpted from The First Affair by Emma McLaughlin, Nicola Kraus
All rights reserved by the original copyright owners. Excerpts are provided for display purposes only and may not be reproduced, reprinted or distributed without the written permission of the publisher.