Chapter Excerpt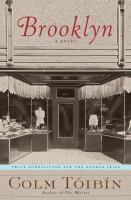 Eilis Lacey, sitting at the window of the upstairs living room in the house on Friary Street, noticed her sister walking briskly from work. She watched Rose crossing the street from sunlight into shade, carrying the new leather handbag that she had bought in Clerys in Dublin in the sale. Rose was wearing a cream-coloured cardigan over her shoulders. Her golf clubs were in the hall; in a few minutes, Eilis knew, someone would call for her and her sister would not return until the summer evening had faded.

Eilis's bookkeeping classes were almost ended now; she had a manual on her lap about systems of accounting, and on the table behind her was a ledger where she had entered, as her homework, on the debit and credit sides, the daily business of a company whose details she had taken down in notes in the Vocational School the week before.

As soon as she heard the front door open, Eilis went downstairs. Rose, in the hall, was holding her pocket mirror in front of her face. She was studying herself closely as she applied lipstick and eye make-up before glancing at her overall appearance in the large hall mirror, settling her hair. Eilis looked on silently as her sister moistened her lips and then checked herself one more time in the pocket mirror before putting it away.

Their mother came from the kitchen to the hall.

"You look lovely, Rose," she said. "You'll be the belle of the golf club."

"I'm starving," Rose said, "but I've no time to eat."

"I'll make a special tea for you later," her mother said. "Eilis and myself are going to have our tea now."

Rose reached into her handbag and took out her purse. She placed a one-shilling piece on the hallstand. "That's in case you want to go to the pictures," she said to Eilis.

"And what about me?" her mother asked.

"She'll tell you the story when she gets home," Rose replied.

"That's a nice thing to say!" her mother said.

All three laughed as they heard a car stop outside the door and beep its horn. Rose picked up her golf clubs and was gone.

Later, as her mother washed the dishes and Eilis dried them, another knock came to the door. When Eilis answered it, she found a girl whom she recognized from Kelly's grocery shop beside the cathedral.

"Miss Kelly sent me with a message for you," the girl said. "She wants to see you."

"Does she?" Eilis asked. "And did she say what it was about?"

"No. You're just to call up there tonight."

"But why does she want to see me?"

"God, I don't know, miss. I didn't ask her. Do you want me to go back and ask her?"

"No, it's all right. But are you sure the message is for me?"

"I am, miss. She says you are to call in on her."

Since she had decided in any case to go to the pictures some other evening, and being tired of her ledger, Eilis changed her dress and put on a cardigan and left the house. She walked along Friary Street and Rafter Street into the Market Square and then up the hill to the cathedral. Miss Kelly's shop was closed, so Eilis knocked on the side door, which led to the upstairs part where she knew Miss Kelly lived. The door was answered by the young girl who had come to the house earlier, who told her to wait in the hall.

Eilis could hear voices and movement on the floor above and then the young girl came down and said that Miss Kelly would be with her before long.

She knew Miss Kelly by sight, but her mother did not deal in her shop as it was too expensive. Also, she believed that her mother did not like Miss Kelly, although she could think of no reason for this. It was said that Miss Kelly sold the best ham in the town and the best creamery butter and the freshest of everything including cream, but Eilis did not think she had ever been in the shop, merely glanced into the interior as she passed and noticed Miss Kelly at the counter.

Miss Kelly slowly came down the stairs into the hallway and turned on a light.

"Now," she said, and repeated it as though it were a greeting. She did not smile.

Eilis was about to explain that she had been sent for, and to ask politely if this was the right time to come, but Miss Kelly's way of looking her up and down made her decide to say nothing. Because of Miss Kelly's manner, Eilis wondered if she had been offended by someone in the town and had mistaken her for that person.

"Here you are, then," Miss Kelly said.

Eilis noticed a number of black umbrellas resting against the hallstand.

"I hear you have no job at all but a great head for figures."

"Is that right?"

"Oh, the whole town, anyone who is anyone, comes into the shop and I hear everything."

Eilis wondered if this was a reference to her own mother's consistent dealing in another grocery shop, but she was not sure. Miss Kelly's thick glasses made the expression on her face difficult to read.

"And we are worked off our feet every Sunday here. Sure, there's nothing else open. And we get all sorts, good, bad and indifferent. And, as a rule, I open after seven mass, and between the end of nine o'clock mass until eleven mass is well over, there isn't room to move in this shop. I have Mary here to help, but she's slow enough at the best of times, so I was on the lookout for someone sharp, someone who would know people and give the right change. But only on Sundays, mind. The rest of the week we can manage ourselves. And you were recommended. I made inquiries about you and it would be seven and six a week, it might help your mother a bit."

Miss Kelly spoke, Eilis thought, as though she were describing a slight done to her, closing her mouth tightly between each phrase.

"So that's all I have to say now. You can start on Sunday, but come in tomorrow and learn off all the prices and we'll show you how to use the scales and the slicer. You'll have to tie your hair back and get a good shop coat in Dan Bolger's or Burke O'Leary's."

Eilis was already saving this conversation for her mother and Rose; she wished she could think of something smart to say to Miss Kelly without being openly rude. Instead, she remained silent.

"Well?" Miss Kelly asked.

Eilis realized that she could not turn down the offer. It would be better than nothing and, at the moment, she had nothing.

"Oh, yes, Miss Kelly," she said. "I'll start whenever you like."

"And on Sunday you can go to seven o'clock mass. That's what we do, and we open when it's over."

"That's lovely," Eilis said.

"So, come in tomorrow, then. And if I'm busy I'll send you home, or you can fill bags of sugar while you wait, but if I'm not busy, I'll show you all the ropes."

"Thank you, Miss Kelly," Eilis said.

"Your mother'll be pleased that you have something. And your sister," Miss Kelly said. "I hear she's great at the golf. So go home now like a good girl. You can let yourself out."

Miss Kelly turned and began to walk slowly up the stairs. Eilis knew as she made her way home that her mother would indeed be happy that she had found some way of making money of her own, but that Rose would think working behind the counter of a grocery shop was not good enough for her. She wondered if Rose would say this to her directly.

---

Excerpted from Brooklyn by Colm Tóibín
All rights reserved by the original copyright owners. Excerpts are provided for display purposes only and may not be reproduced, reprinted or distributed without the written permission of the publisher.