Chapter Excerpt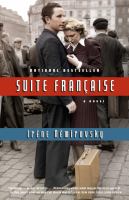 By the early 1920s, when Ukranian-born Irène Némirovsky began working on what would become Suite Française—the first two parts of a planned five-part novel—she was already a highly successful writer living in Paris. But she was also a Jew, and in 1942 she was arrested and deported to Auschwitz; a month later she was dead. When she was arrested, she had completed two parts of the epic; her daughters took the manuscript with them into hiding.The first part, A Storm in June, opens in the chaos of the massive 1940 exodus from Paris on the eve of the Nazi invasion, during which several families and individuals are thrown together under circumstances beyond their control. In the second part, Dolce, we enter the increasingly complex life of a German-occupied provincial village. Coexisting uneasily with the soldiers billeted among them, the villagers cope as best they can.Suite Française is a singularly piercing evocation of life and death in occupied France, and a brilliant, profoundly moving work of art.

---

Excerpted from Suite Francaise by Iréne Némirovsky
All rights reserved by the original copyright owners. Excerpts are provided for display purposes only and may not be reproduced, reprinted or distributed without the written permission of the publisher.