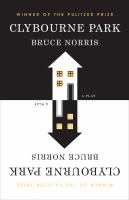 Clybourne Park

CHARACTERS
ACT I (1959)
ACT II (2009)
Note: In the original production, the actor playing Jim and Tom also played the role of Kenneth. In some subsequent productions a separate actor was hired to play the role of Kenneth alone.
Copyright © 2011 by Bruce Norris
---

Excerpted from Clybourne Park: A Play by Bruce Norris
All rights reserved by the original copyright owners. Excerpts are provided for display purposes only and may not be reproduced, reprinted or distributed without the written permission of the publisher.