Chapter Excerpt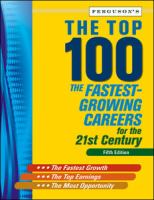 Praise for the previous edition: Recommended. Choice...should be a mandatory purchase...especially during the current economic downturn... BooklistThe Top 100: The Fastest-Growing Careers for the 21st Century, Fifth Edition gives readers the inside scoop on jobs projected to experience the fastest growth, the greatest opportunity, and the best earnings through 2018, according to statistics from the U.S. Department of Labor. This informative resource examines a wide range of industries, including computers, education, engineering, finance, food, health care, and more, as well as job opportunities at various levels of skill and education. Each job article describes the job duties; required education, training, and skills; expected earnings; and much more. An introduction explains how the jobs were selected and includes overviews of the most popular career fields.Jobs covered include:Athletic trainersBiomedical engineersComputer software engineersEnvironmental engineersFinancial examinersHome health aidesOccupational therapist aidesPersonal financial advisorsPhysician assistantsVeterinariansand more.

---

Excerpted from The Top 100: The Fastest-Growing Careers for the 21st Century by Ferguson
All rights reserved by the original copyright owners. Excerpts are provided for display purposes only and may not be reproduced, reprinted or distributed without the written permission of the publisher.