Chapter Excerpt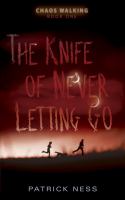 THE FIRST THING you find out when yer dog learns to talk is that dogs don't got nothing much to say. About anything.

"Need a poo, Todd."

"Shut up, Manchee."

"Poo. Poo, Todd."

"I said shut it."

We're walking across the wild fields southeast of town, those ones that slope down to the river and head on toward the swamp. Ben's sent me to pick him some swamp apples and he's made me take Manchee with me, even tho we all know Cillian only bought him to stay on Mayor Prentiss'sgood side and so suddenly here's this brand-new dog as a present for my birthday last year when I never said I wanted any dog, that what I said I wanted was for Cillian to finally fix the fissionbike so I wouldn't have to walk every forsaken place in this stupid town, but oh, no, happy birthday, Todd, here's a brand-new puppy, Todd, and even tho you don't want him, even tho you never asked for him, guess who has to feed him and train him and wash him and take him for walks and listen to him jabber now he's got old enough for the talking germ to set his mouth moving? Guess who?

"Poo," Manchee barks quietly to himself. "Poo, poo, poo."

"Just have yer stupid poo and quit yapping about it."

I take a switch of grass from beside the trail and I swat after him with it. I don't reach him, I don't mean to reach him, but he just laughs his little barking laugh and carries on down the trail. I follow after him, switching the switch against the grass on either side, squinting from the sun, tryingnot to think about nothing at all.

We don't need apples from the swamp, truth be told. Ben can buy them at Mr. Phelps's store if he really wants them. Also true: going to the swamp to pick a few apples is not a job for a man cuz men are never allowed to be so idle. Now, I won't officially become a man for thirty more days. I've lived twelve years of thirteen long months each and another twelve months besides, all of which living means I'm still one month away from the big birthday. The plans are being planned, the preparayshuns prepared, it will be a party, I guess, tho I'm starting to get some strange pictures about it, all dark and too bright at the same time, but neverthelessI will become a man and picking apples in the swamp is not a job for a man or even an almost-man.

But Ben knows he can ask me to go and he knows I'll say yes to going because the swamp is the only place anywhere near Prentisstown where you can have half a break from all the Noise that men spill outta theirselves, all their clamor and clatter that never lets up, even when they sleep, men and the thoughts they don't know they think even when everyone can hear. Men and their Noise. I don't know how they do it, how they stand each other.

Men are Noisy creachers.

"Squirrel!" Manchee shouts and off he goes, jumping off the trail, no matter how loud I yell after him, and off I have to go, too, across the (I look round to make sure I'm alone) goddam fields cuz Cillian'll have a fit if Manchee falls down some goddam snake hole and of course it'll be my own goddam fault even tho I never wanted the goddam dog in thegoddam first place.

"Manchee! Get back here!"

"Squirrel!"

I have to kick my way thru the grass, getting grublets stuck to my shoes. One smashes as I kick it off, leaving a green smear across my sneakers, which I know from experience ain't coming out. "Manchee!" I rage.

"Squirrel! Squirrel! Squirrel!"

He's barking round the tree and the squirrel's skittering back and forth on the tree trunk, taunting him. Come on, Whirler dog, says its Noise. Comeon, come get, come on, come get. Whirler, Whirler, Whirler.

"Squirrel, Todd! Squirrel!"

Goddam, animals are stupid.

I grab Manchee by the collar and hit him hard across his back leg. "Ow, Todd? Ow?" I hit him again. And again. "Ow? Todd?"

"Come on," I say, my own Noise raging so loud I can barely hear myself think, which is something I'm about to regret, you watch.

Whirler boy, Whirler boy, thinks the squirrel at me. Come get, Whirler boy.

"You can eff off, too," I say, except I don't say "eff ", I say what "eff" stands for.

And I really, really shoulda looked round again.

---

Excerpted from The Knife of Never Letting Go by Patrick Ness
All rights reserved by the original copyright owners. Excerpts are provided for display purposes only and may not be reproduced, reprinted or distributed without the written permission of the publisher.