Chapter Excerpt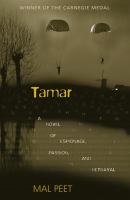 Tamar had not been able to drift clear of the surface of the water that rushed up to meet him. He was already fumbling with the harness release when he felt the cold shock of contact; he was terrified the chute would drag him under. He was thigh deep before he felt something more or less solid - a mass of sludge and submerged branches - beneath his feet. With a moan of relief he got free of the chute and saw it settle onto the black water like a gigantic water lily. Then he began to struggle towards the denser shadow of the bank. His flailing right arm struck something hard, and he grabbed at it. It shifted in the water. A boat? Yes.

He was pulling himself along it, looking for where it must be moored to the bank, when he heard someone speak.

"Welcome to Holland, Tamar."

He looked up. On the bank, distinct against the lesser darkness of the sky, was the unmistakable silhouette of a German soldier. The long field-service coat, the jackboots. Cold moonlight glinted from the steel helmet and the snout of a submachine gun.

Even before fear took hold, Tamar was filled with a great and bitterdisappointment, a sense of ridiculous failure. He stood away from the boat, feeling broken, and raised his arms above his head.

_______

TAMAR by Mal Peet. Copyright © 2007 by Mal Peet. Published by Candlewick Press, Inc., Cambridge, MA.

---

Excerpted from Tamar: A Novel of Espionage, Passion, and Betrayal by Mal Peet
All rights reserved by the original copyright owners. Excerpts are provided for display purposes only and may not be reproduced, reprinted or distributed without the written permission of the publisher.