Chapter Excerpt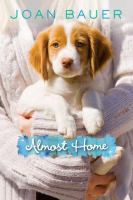 I had a long night. I kept getting out of bed and walking through the house, remembering when we moved here after Reba and Mr. Leeland got divorced the first time. I was in second grade, and King Cole and Reba scraped together all they had and bought this house together. We were so proud to have our own little place. We painted the front door emerald green. It wasn't the best paint job, but I remember going through that door and feeling my life was fresh and new and all the shadows from Mr. Leeland's gambling were behind us. King Cole and I painted the wooden fence white and we fixed the cement steps. Reba and I planted peonies in the garden, and she repaired the rips in the screen door with clear nail polish. Mr. Leeland lived with us a few times, but he never stayed for long. He only cared if there was food and beer in the refrigerator, but me, Reba, and King Cole took care of this house with everything we had.
            How could we be losing it?

---

Excerpted from Almost Home by Joan Bauer
All rights reserved by the original copyright owners. Excerpts are provided for display purposes only and may not be reproduced, reprinted or distributed without the written permission of the publisher.