Chapter Excerpt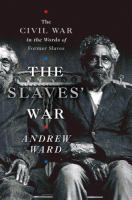 PROLOGUE We DoneNow Fort Sumter Gladness and LamentationWell before sunrise on Friday, April 12, 1861, George Gregory joined a group of his fellow slaves on the Charleston waterfront and gazed across the harbor at Fort Sumters dismal, hulking silhouette. Sumters commander, Major Robert Anderson, had been holding out since the previous December, refusing demand after demand that he turn the fort over to Secessionist South Carolina. Now his time was up. Abe Lincoln had sent the word that he going to send provisions to the fort, recalled a local slave named Josh Miles, and the whole town of Charleston went down to see the first shot fired. White Charlestonians darted around crying, Everybody get back! The fort will fire on the town and kill every person, Gregory remembered. But nobody care, cause they figure if one going to be killed, they all going to be, and it dont make a difference no-how. And just as the light commence making the sky red, and its light enough to see who that is standing by you BOOM! the first gun went off! from the Secessionist batteries. The light from it shone in the sky, and made it redder! The war done commence, and all around Gregory the folks shout, and some cry, and some sing. That morning William H. Robinson was driving his master and a companion to Wilmington, North Carolina, when they heard the booming of cannons echoing down the Cape Fear river and across the broad bosom of the Atlantic. Slapping his hands together with a curse, his master looked deathly pale as he turned to his friend and said simply, Its come. He hastily jotted a note and handed it to Robinson to take back to his mistress. But as was his habit with all his masters mail, Robinson stopped first at the cabin of a literate slave named Tom to hear it read aloud. We have fired on Fort Sumter, it said. I may possibly be called away to help whip the Yankees; may be gone three days, but not longer than that. Robinsons master went on to instruct his wife to tell their overseer to keep a very close watch on the Negroes, and see that theres no private talk among them, and to give two local whites suspected of abolitionist tendencies no opportunity to talk with the Negroes. Soon after the firing on Fort Sumter, Louis Hughes was waiting with his team outside a store in Pontotoc, Mississippi, when his owner emerged. What do you think? blustered master Ed McGee, climbing into his carriage. Old Abraham Lincoln has called for 75,000 men to come to Washington immediately. Well, let them come, he snarled, we will make a breakfast of them. I can whip a half dozen Yankees with my pocket knife. Arriving home, McGee instituted daily pistol practice that required Hughes to run over and check the target after each of his masters rounds. He would sometimes miss the fence entirely, the ball going out into the woods beyond, but when he managed to shoot within the bulls eyes vicinity, he would exclaim, Ah! I would have got him that time, by which he meant a Yankee soldier.

---

Excerpted from The Slaves' War: The Civil War in the Words of Former Slaves by Andrew Ward
All rights reserved by the original copyright owners. Excerpts are provided for display purposes only and may not be reproduced, reprinted or distributed without the written permission of the publisher.