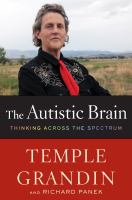 The Meanings of Autism

I was fortunate to have been born in 1947. If I had been born ten years later, my life as a person with autism would have been a lot different. In 1947, the diagnosis of autism was only four years old. Almost nobody knew what it meant. When Mother noticed in me the symptoms that we would now label autistic—destructive behavior, inability to speak, a sensitivity to physical contact, a fixation on spinning objects, and so on—she did what made sense to her. She took me to a neurologist.

Bronson Crothers had served as the director of the neurology service at Boston Children's Hospital since its founding, in 1920. The first thing Dr. Crothers did in my case was administer an electroencephalogram, or EEG, to make sure I didn't have petit mal epilepsy. Then he tested my hearing to make sure I wasn't deaf. "Well, she certainly is an odd little girl," he told Mother. Then when I began to verbalize a little, Dr. Crothers modified his evaluation: "She's an odd little girl, but she'll learn how to talk." The diagnosis: brain damage.

He referred us to a speech therapist who ran a small school in the basement of her house. I suppose you could say the other kids there were brain damaged too; they suffered from Down syndrome and other disorders. Even though I was not deaf, I had difficulty hearing consonants, such as the c in cup. When grownups talked fast, I heard only the vowel sounds, so I thought they had their own special language. But by speaking slowly, the speech therapist helped me to hear the hard consonant sounds, and when I said cup with a c, she praised me—which is just what a behavioral therapist would do today.
---

Excerpted from The Autistic Brain: Thinking Across the Spectrum by Temple Grandin, Richard Panek
All rights reserved by the original copyright owners. Excerpts are provided for display purposes only and may not be reproduced, reprinted or distributed without the written permission of the publisher.