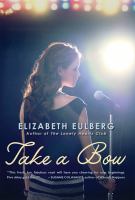 From Take a Bow
That first day, I walked into the cafeteria like a prisoner being sent to death row. I'd been dreading going to the cafeteria by myself since Sophie and I realized we had different lunch periods. To make matters worse, I hadn't made a single friend all morning.
The cafeteria was filled with students already settled into their groups, laughing and enjoying themselves.
I looked over and saw a boy from music composition eating a sandwich by himself. I didn't know his name, but Mr. North had said he was the only person who hadn't had to re-audition to get in. I headed over to him, knowing that I needed to make an effort to get to know people.
"Hey, I'm Emme," I said. He looked up at me, mid-bite. His black hair was cut extremely short, almost a buzz cut, and it couldn't hide his ruddy cheeks. Also, he was wearing a T-shirt and jeans that were both about four sizes too big. "Um, we're in music composition together?" I didn't know why I'd made that sound like a question. "Um, can I join you?" My voice went up an octave higher than normal.
He nodded. Then, after he finished swallowing his food, he finally spoke. "I'm Ethan."
---

Excerpted from Take a Bow by Elizabeth Eulberg
All rights reserved by the original copyright owners. Excerpts are provided for display purposes only and may not be reproduced, reprinted or distributed without the written permission of the publisher.