Chapter Excerpt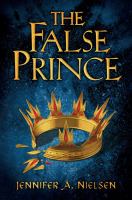 From The False Prince
"Would you ever be on my side, even if I chose you above the other boys?" Conner asked.
"I'm only on my side. Your trick will be convincing me that helping you helps me," I replied.
"What if I did? How far would you go to win?"
"The better question, sir, is how far you will go to win."
I looked him steadily in the eyes as I spoke. "You killed Latamer. So we know you're willing to murder to win."
"I am." Conner backed up, speaking to all of us again.
"And I'm willing to lie, to cheat, and to steal. I'm willing to commend my soul to the devils if necessary because I believe there is exoneration in my cause. I need one of you to conduct the greatest fraud ever perpetrated within the country of Carthya. This is a lifetime commitment. It will never be safe to back down from my plan and tell the truth. To do so would destroy not only you but the entire country. And you will do it to save Carthya."

---

Excerpted from The False Prince by Jennifer A. Nielsen
All rights reserved by the original copyright owners. Excerpts are provided for display purposes only and may not be reproduced, reprinted or distributed without the written permission of the publisher.