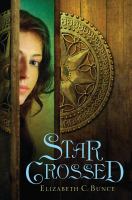 From StarCrossed:

What happened? I couldn't slow the images spinning in my mind enough to make sense of them. We'd finished the job; we should have been safe. Tegen had thrown an arm around me and kissed me. I had laughed, the blood rushing through my veins. Hass's clients would have the letters, I'd have fifteen crowns and Tegen would have me. Everything had gone perfectly.

Until the men in the green slammed through the doors and wrenched Tegen off me, a flashing silver blade easing through the separation. A bloom of red sprang up on Tegen's knife, a burst of blackness blinded me, and for a moment I couldn't breathe. And then, Tegen's voice: Digger, run!



---

Excerpted from Starcrossed by Elizabeth C. Bunce
All rights reserved by the original copyright owners. Excerpts are provided for display purposes only and may not be reproduced, reprinted or distributed without the written permission of the publisher.