Chapter Excerpt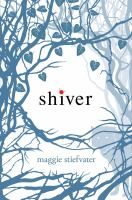 EXCERPT FROM SHIVERThat night I lay in bed and stared at the window, my blinds pulled up so I could see the night sky. One thousand brilliant starspunched holes in my consciousness, pricking me with longing. I could stare at the stars for hours, their infinite depth pullingme into a part of myself that I ignored during the day.Outside, deep in the woods, I heard a long, keening wail, and then another, as the wolves began to howl. More voices pitchedin, some low and mournful, others high and short, an eerie and beautiful chorus. I knew my wolf's howl; his rich tone sangout above the others as if begging me to hear it.My heart ached inside me, torn between wanting them to stop and wishing they would go on forever. I imagined myself thereamong them in the golden wood, watching their heads tilt back to the endless stars. I blinked a tear away, feeling foolishand miserable, but I didn't go to sleep until every wolf had fallen silent.

---

Excerpted from Shiver by Maggie Stiefvater
All rights reserved by the original copyright owners. Excerpts are provided for display purposes only and may not be reproduced, reprinted or distributed without the written permission of the publisher.