Chapter Excerpt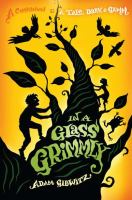 Fairy tales were, in a word, horrible.

Two hundred years ago, in Germany, the Brothers Grimm first wrote down that version of Cinderella in which the stepsisters slice off pieces of their feet and get their eyes pecked out. In England, a man names Joseph Jacobs collected tales like Jack the Giant Killer, which is about a boy named Jack who goes around murdering giants in the most gruesome and grotesque ways imaginable. And there was this guy called Hans Christian Andersen, who lived in Denmark and wrote fairy tales filled with sadness and humiliation and loneliness. Even Mother Goose's rhymes could get pretty dark—after all, Jack and Jill go up a hill, and then Jack falls down and breaks his head open.

Yes, fairy tales were horrible. In the original sense of the word.

But even these horrible fairy tales and nursery rhymes aren't true. They're just stories. Right?

Not exactly.

---

Excerpted from In a Glass Grimmly by Adam Gidwitz
All rights reserved by the original copyright owners. Excerpts are provided for display purposes only and may not be reproduced, reprinted or distributed without the written permission of the publisher.