Chapter Excerpt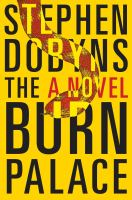 Hercel had seen coyotes before, and a week earlier he had seen two in the tall grass down by the beach. And he knew they took people's pets; kids talked about it in school. They got in people's trash and skulked around at night. But he had never heard of them chasing anybody. The coyotes' yapping was almost like singing. Moments later, Hercel saw a light ahead of him through the trees. The coyotes were right behind him. In the bits of silence within their yapping, he heard the click of their nails against the road's hard surface. Hercel stood up and pedaled harder, slipped off the road but kept his balance. The muscles in his thighs ached, and his fingers hurt from clutching the grips. The light was brighter. Ahead, to the left, he saw a stone wall and then a gate. It had to be the farm. He heard the coyotes panting. Trying to quiet his terror, he aimed at the wall.

---

Excerpted from The Burn Palace by Stephen Dobyns
All rights reserved by the original copyright owners. Excerpts are provided for display purposes only and may not be reproduced, reprinted or distributed without the written permission of the publisher.