Chapter Excerpt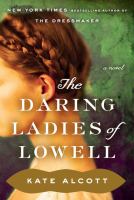 Chapter One

Lowell, Massachusetts

March 1832

Alice stepped gingerly into the darkened dormitory, holding her breath against the unexpected. An oil lamp flickered, turned so low she could see no more than a line of cots squeezed close together in a long, narrow room. The air was close, aromatic with the scent of warm bodies.

"Who are you?" demanded a sleepy voice.

"Alice Barrow. I'm from New Hampshire, here to work." It didn't seem enough, but she was worn to the bone from her long coach ride to this gritty, bustling mill town that promised so much.

"Lordy, another one." This was a second voice, bouncy and light, with a hint of mischief. "Move over, girls. Here we go again."

"They shouldn't be waking us. She's got to take the far bed, I'm not giving up this one," declared the first voice, now on the edge of indignation.

"Calm down, Mary-o, there's one empty."

Alice began climbing over the still, shadowy figures, unnerved by their smothered giggles and deliberate pokes from unseen feet. She counted: she had to crawl over five almost invisible people before she got to the last bed in this small dormitory. "What's your name?" she said into the dim light, in the direction of the most friendly voice.

"I'm Lovey. Welcome to Boott Boardinghouse, number fifty-two, your new home. You're in Dormitory A; six of us now. They'd better not try squeezing in another bed."

Then more gently, "You've come a long way to get here this late. Hope they fed you."

"Parsnips and potatoes." Alice's stomach lurched slightly. She untied her green cloak and folded it carefully at the end of the bed. Her bandbox, more books in it than clothes.

"Not feeling too good, I'll bet. The potatoes were turning black at breakfast." Lovey broke into giggles.

"Don't listen to her," piped up a calm new voice. "She's a bit of a wag; sports with every new girl that comes along. There's nothing wrong with the potatoes, Lovey just likes to make trouble. Anyway, nice to meet you. I'm Tilda, hope you don't snore."

Alice felt for the blanket covering her bed; it seemed warm enough. Her eyes were adjusting. The girl named Lovey was two cots down, sitting up now, her thin shoulders sheathed in what appeared to be a white muslin gown. The figure between them lay huddled under a gray coverlet, ignoring them as she whispered to herself.

"That's Jane," Lovey said casually. "Congregationalist, you know. Always praying, for people like me, mostly. Maybe you do too, unless you're one of those revivalists who weep and sing all the time. Why are you here?"

Alice replied with carefully rehearsed firmness. "To earn enough money to help my father with his bills and save so I never have to work on a farm again. At three dollars a week, I can do it."

She must keep repeating that to herself. It was all that had kept her steady when she left home.

"Get to spend any for fun?"

"A little. Enough."

"There's no such thing as enough, not with the starvation wages here," Lovey muttered.

"Nobody's starving," said the one named Tilda, audibly smothering a yawn. "Stop grumbling, Lovey--let the girl sleep. You can complain in the morning." Her easy tone seemed effective, for Lovey said no more.

Alice pulled back the covers, easing herself into bed. There was no use hunting for her nightdress; the girl named Mary-o would just complain again. And no use saying more to the one named Lovey, either. It didn't matter. She shivered, but not from cold. The most important day of her life was almost over, and she wanted now only to rest. She had done it, she had made the leap. No more cleaning up cow dung, no more twisting the necks of squawking chickens. She was a factory girl now; she'd soon be working the looms and making money. Tomorrow it would begin.

Alice closed her eyes, dropping her head onto a thin pillow. No one was talking; she could drift and let go.

A sound intruded. A slight, hiccupping sob, a sound so lonely that it pulled at her heart. "Who's that?" she asked in a whisper to Lovey.

"That's Ellie, our bobbin girl. A hard worker, better than most."

"How old is she?"

"Nine or ten."

"Why is she crying?"

"Her legs. A bobbin girl does a lot of running. We take turns rubbing them for her."

"Can't anyone comfort her now?"

"She wants Delia, her sister. But Delia's on kitchen duty until midnight this week."

An unease floated over Alice, so ephemeral she could give it no shape or words, nor push it away. The bobbin girl's weary cry followed her into her dreams, and somewhere, somehow, it ceased. Only then did she join the others, still invisible, in deep sleep.

The piercing shriek of the factory whistle at 4:30 a.m. was the loudest sound she had ever heard. It made her teeth ache. She lifted her head from the pillow, blinking at the sight of girls flinging themselves out of bed, pulling off nightdresses, putting on blue work shifts, and heading for the door. No washing up? She saw a basin and pitcher behind the door, but no one approached it.

"You're late already, hurry up." The lighthearted voice of the night before was husky in the morning chill. She looked into Lovey's face, which didn't quite match what she had imagined in the dark. It was all motion: thin and lively, not exactly pretty, but with a mouth that smiled easily and eyes that flicked restlessly about. She looked capable of switching moods with great speed. Right now, her eyes showed impatience.

"Breakfast, rotten or not, in five minutes," Lovey said, clapping her hands together. "I can see I'm going to have to push you along."

With a twinge of annoyance, Alice pulled on the smock she had been issued last night and ran her fingers through her long, chocolate-brown hair. "Nobody has to push me along. I'm ready," she said.

Lovey shook her head. "Pull your hair up, twist it tight. Here's a knitting needle to hold it." She grabbed a needle from a bag filled with yarn and held out her hand.

"I don't like braiding my hair up." Really, who was this person ordering her around?

Lovey's eyes darkened. "Just do it."

Alice jammed the needle through her sloppily twisted bun with more force than necessary. She wasn't going to get in an argument with anyone on her first day.

The boardinghouse dining room, papered in a tight gold-and-brown windowpane pattern, was immense and claustrophobic at the same time. On the narrow mantel, perched perilously close to the edge, sat a worn-looking chiming clock. A watercolor of a child playing with a rag doll hung slightly askew next to the swinging door that led to the kitchen. There were five tables covered in oilcloth, with up to ten girls from each of the dormitories squeezed in, chattering at the top of their voices as they took turns ladling out breakfast from a tureen filled with pumpkin mush. A kitchen girl was squeezing through the crowd handing out slabs of fried codfish. Alice looked around and saw not a single seat was empty.

"There's quite a few of us at number fifty-two, six to each dormitory. I don't know half of them, but we're all about the same age. How old are you?"

"I turned twenty last week," Alice said.

"Ah, I'm an old lady, then. I'm twenty-three." Lovey nodded toward the table. "Just nudge somebody over, only ten minutes for breakfast," she said. "Move over, Tilda, make room for Alice." She gave the placid, plump Tilda a small shove, tipping the chair. Tilda almost fell off.

"You can be so rude," Tilda said indignantly.

"If your bottom weren't so big, there'd be room for two," Lovey murmured.

A sudden sharp voice cut through the chatter. "That's enough from you, Lovey." A large, pale woman emerged from the kitchen. Her chin looked permanently dusted with fine, dark hair, and her nose was round as a potato. She planted herself across the kitchen entrance. "We've got a new girl this morning, so show your manners." She nodded in Alice's direction. "It's Alice Barrow, right?"

Alice nodded.

"Your papers say you've worked spinning and weaving on hand looms."

Alice nodded again, quickly. "I'm quite good at it," she said.

"Don't get overconfident; running these machines is much harder than handwork. The foreman said to tell you you're being tried out on the looms today. Tilda will teach you." The woman's gaze swept now around the table. "So what's the most important thing she should know? Who wants to answer?" After a pause, "Don't all jump up at once, now."

"Make sure the bobbin doesn't run out of thread; if it does you have to stop the machine, and that's money lost," Tilda said.

"Your money gets docked, too," Lovey murmured to Alice. "Fewer jingling coppers in the paymaster's money box."

"Who is she?" Alice asked, once the woman was out of earshot.

"That's Mrs. Holloway, the house mistress. She worked the looms until she got too old, so now she keeps busy making a ton of rules. You break them, you are out."

Almost on cue, Mrs. Holloway turned back and pointed to a cardboard sign hanging next to the fireplace. "There are the rules," she said. "Read them and heed them. And know this--we'll have no loose girls at Lowell. Your conduct here at the mill and in town will be watched. And church is mandatory, Saint Anne's Episcopal."

"But I'm not religious."

"Makes no difference," Mrs. Holloway said.

Lovey's arm shot up, her eyes bright. "Mrs. Holloway, are you going to tell her about the rule saying she has to tithe every week? A little extra for the church and mill owners out of her pay envelope?"

A nervous, thin giggle spread across the room.

Mrs. Holloway shot Lovey a cross look. "One day you'll push me too far, Lovey Cornell. Get yourself a biscuit, that's all for now. Breakfast is over." As one, the crowd of girls shoved back their chairs and stood, some cramming biscuits into their pockets as quickly as they could.

Alice looked longingly at the warm pumpkin mush, still steaming, but the girls were straightening aprons and lining up to leave the building.

"Here," hissed Lovey. She threw Alice a biscuit.

Outside, Alice inhaled deeply, glad to be free of the closeness of the boardinghouse. The cold air shocked her fully awake. She looked around. She was in a square lined in brick, a huge clock tower rising grandly to the still-dark sky, hurrying with the others toward a wooden bridge that crossed the Merrimack River. The boardinghouses, eight rows of them built of the same red brick as the square, stood directly across the bridge from the factory. They had tall chimneys, gabled dormers, and precisely spaced windows lined up as snappily as soldiers on review; no hint of the crowded conditions within. Tall pines graced each side of the road leading away from the boardinghouses into Lowell, their branches bare but plentiful, offering promise. Everything offered promise. The road itself beckoned. Alice knew that if they took a right turn, over the next hill, there was a company store and small shops selling sweets and real leather shoes. Beyond that sat the Lowell Bank with the majestic solid marble pillars she had been told about. A real bank that whispered promises for those who saved their money. You had to give it to them first, but she understood how that would work. She couldn't see all this, not yet, but she knew it was there.

---

Excerpted from The Daring Ladies of Lowell by Kate Alcott
All rights reserved by the original copyright owners. Excerpts are provided for display purposes only and may not be reproduced, reprinted or distributed without the written permission of the publisher.