Chapter Excerpt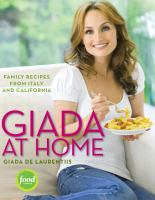 Stuffed Baby Peppers
From Giada at Home

4 to 6 servings

My mother always loved to serve stuffed vegetables; she stuffed zucchini, potatoes, onions, and, of course, all kinds of peppers. It may have been her way of getting us to eat our vegetables, but we loved them so much we ate them right out of the fridge the next day. I've used pancetta in the filling, but this is an easy recipe to vary and you could certainly substitute ground beef, sausage – almost anything savory that you like. These taste better the longer they sit, so they make great leftovers.

Vegetable oil cooking spray
2 tablespoons olive oil
3 ounces thinly sliced pancetta, finely chopped
1/2 medium onion, finely chopped
3/4 cup whole-milk ricotta cheese
1/3 cup freshly grated Parmesan cheese
1/3 cup frozen petite peas, thawed
Salt and freshly ground black pepper
24 (2- to 3-inch long) baby peppers

Place an oven rack in the center of the oven and preheat the oven to 350°F. Spray a rimmed baking sheet with vegetable oil cooking spray. Set aside.

In a medium skillet, heat the olive oil over medium-high heat. Add the pancetta and cook, stirring frequently, until brown and crispy, 5 to 7 minutes. Using a slotted spoon, remove the pancetta and drain on paper towels. Add the onion to the pan and cook until translucent and soft, about 5 minutes. Set aside to cool for 10 minutes.

In a medium bowl, combine the onion, pancetta, cheeses, and peas. Season with salt and pepper.

Using a paring knife, 1/2 inch from the stem end of each pepper. Remove the seeds and veins. Using a small dessert spoon, fill each pepper with the cheese mixture. Place the filled peppers on the prepared baking sheet and bake for 15 to 18 minutes, until the peppers begin to soften and the cheese is warmed through. Cool for 10 minutes.

Arrange the peppers on a platter and serve.



pea pesto crostini
4 to 6 servings

I don't keep a lot in my freezer, but one thing you'll always find there is a package of frozen peas. They're sweet, they have a lovely green color, and when puréed they can satisfy a craving for a starchy food. If you're not a big fan of peas, at least give this a try. I think it's going to be your new favorite thing. I can't resist eating it straight out of the bowl!


Ingredients

1 (10-ounce) package frozen peas, thawed
1 garlic clove
1/2 cup freshly grated Parmesan cheese
1 teaspoon salt, plus more to taste
1/4 teaspoon freshly ground black pepper, plus more to taste
1/3 cup olive oil
8 (½-inch-thick) slices whole-grain baguette or ciabatta bread, preferably day-old
8 cherry tomatoes, halved, or 1 small tomato, diced


For the pea pesto: Pulse together in a food processor the peas, garlic, Parmesan cheese, salt, and pepper. With the machine running, slowly add ⅓ cup of the olive oil and continue to mix until well combined, 1 to 2 minutes. Season with more salt and pepper, if needed. Transfer to a small bowl and set aside. For the crostini: Preheat a stovetop griddle or grill pan over medium-high. Brush both sides of each of the bread slices with the remaining ⅓ cup olive oil and grill until golden, 1 to 2 minutes. Transfer the bread to a platter and spread 1 to 2 tablespoons pesto on each slice. Top each crostini with 2 tomato halves and serve.


From the Hardcover edition.

---

Excerpted from Giada at Home: Family Recipes from Italy and California by Giada De Laurentiis
All rights reserved by the original copyright owners. Excerpts are provided for display purposes only and may not be reproduced, reprinted or distributed without the written permission of the publisher.