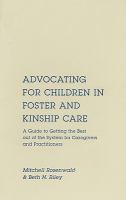 Read the chapter Advocacy in Interdisciplinary Teams. (pdf)


---

Excerpted from Advocating for Children in Foster and Kinship Care: A Guide to Getting the Best out of the System for Caregivers and Practitioners by Mitchell Rosenwald, Beth N. Riley
All rights reserved by the original copyright owners. Excerpts are provided for display purposes only and may not be reproduced, reprinted or distributed without the written permission of the publisher.