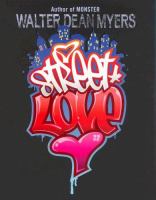 Street Love
Harlem
Autumn in Harlem.
Fume-choked leaves, already
Yellowed, crack in the late September
Breeze. Weeds, city tough, city brittle,
Push defiantly along the concrete edges
Of Malcolm X Boulevard. On 137th Street
A toothless sidewalk vendor neatly stacks
His dark knit caps beside the plastic cell
Phone covers. Shadows indistinct in August heat
Now deepen and grow long across
The wide streets. Homeless men sniff the air and
Know that somewhere the Hawk stirs.
Harlem is not an easy place
To grow old, and so the young
Are everywhere,
Pouring from the buses, city dancing
To the rhythms of the street,
City dancing to the frantic spin of life
In the fast lane.

Street Love. Copyright © by Walter Myers. Reprinted by permission of HarperCollins Publishers, Inc. All rights reserved. Available now wherever books are sold.

---

Excerpted from Street Love by Walter Dean Myers
All rights reserved by the original copyright owners. Excerpts are provided for display purposes only and may not be reproduced, reprinted or distributed without the written permission of the publisher.