Chapter Excerpt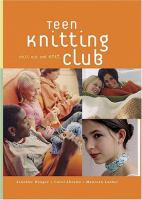 We began poring over knitting literature and studying teen fashion magazines to find the best way to reach out to our readers. We also began to conduct interviews in person, via letters and e-mail, and in phone conversations with hundreds of teen and young adult knitters from Manhattan to Malibu. Almost immediately, something magical began to happen. The answers we were getting to our questions revealed that knitting meant more to our respondents than anything we had imagined. More than just a hobby, knitting is often a journey of self-discovery: a way to nurture creativity and self-expression, achieve a sense of accomplishment, and boost self-esteem. Our teens and young adults say that knitting is something productive to do when theyre alone, listening to music, or watching TV. With a group, like a school knitting club, its a great way to spend time with new and old friends in a noncompetitive, nonacademic setting. Knitting healing shawls or caps for children undergoing chemotherapy is a way many young knitters contribute to their communities. And knitting with relatives strengthens family ties. Of course, everyone loves enhancing his or her wardrobe with one-of-a-kind clothing and accessories at a fraction of what they would cost to buy. And making presents for loved ones proves that its better to give than to receive. Last, but most importantly, virtually every knitter comments on how relaxed he or she feels when knittinghow the soothing, rhythmic act of knitting helps relieve school and social pressures and reduce stress. Realizing weve found the heart of our book in the words and stories of our knitters, we are thrilled to share them with you in these pages. We hope they will inspire you as much as they do us and that you will come to love and benefit from knitting, as we do.

---

Excerpted from Teen Knitting Club: Chill Out and Knit by Jennifer Wenger, Carol Abrams, Maureen Lasher
All rights reserved by the original copyright owners. Excerpts are provided for display purposes only and may not be reproduced, reprinted or distributed without the written permission of the publisher.